MDL Fireworks Ltd

For every occasion, MDL Fireworks provide fantastic firework displays.
Based in Preston, MDL Fireworks provide magnificent pyrotechnic displays for events in the North West of England and throughout the UK Whether you are celebrating a Wedding, Chinese New Year, Diwali or launching a new product MDL Fireworks will help you to create an event to remember.
Weddings At MDL Fireworks
The content of the Silver Display will not disappoint you. The effects can be colour co-ordinated for your special day if you wish or leave the colours to us. Whichever you choose the results will be spectacular.
The Gold Display is slightly longer duration than the Silver Display but with extra content this show gives more colour and noise.
The Platinum show will give your day an extra special feel that both you and your guests will be talking about for years to come. You will have 1956 Barrage and Candle shots plus 50 aerial display Shells and Mines effects reaching a height of up to 300 feet filling the sky with colour and just when you think itís over we will launch your finale, a breathtaking end to a perfect day.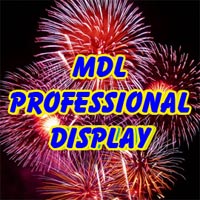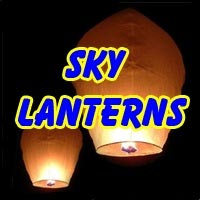 We are fully insured and our professionally trained pyrotechnicians will make sure that your special day ends in a spectacular blaze of colour. We can provide a host of effects that can be designed especially for you both, including your initials in fireworks, waterfall effects (site permitting) aerial shells that burst in the shape of love hearts in the sky and Champagne bottles with a froth of silver. Just tell us what you would like and we can design it. We are Wedding Day Specialists -Please contact us for further details and prices.
Lanterns at MDL Fireworks
Lanterns originate from China and have been created to put forth people's wishes and dreams.
Many people actually write their wish or dreams onto the lanterns before they release it into the sky. Lanterns make celebratory events, extra special. Individuals are using them for birthdays, anniversaries, engagements, weddings and memorial services.