Only for the Girls......
HEEL STOPPERS AND HEEL PROTECTORS to stop you sinking into soft ground at Weddings, Races, Parties and all other outdoor events! Our heel stoppers are used to protect wooden floors, at venues such as National Trust properties, as well as in homes and offices!
You can purchase online www.cleanheels.co.uk, and we also stock many boutiques, wedding stores, gift shops, garden centres and more - check our store locator for a stockist near you.
This year's top selling accessory for ladies! Top celebrities already have them on their heels.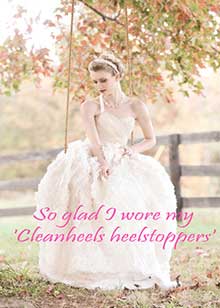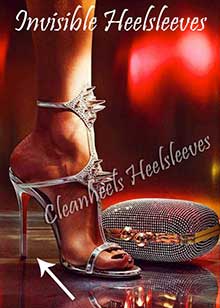 Imagine buying the perfect pair of high heeled shoes for a wedding, garden party, or a day at the races, only to find your new heels two inches deep in mud and grass, or stuck between decking. Another pair ruined. You will be asked to wear 'Clean Heels' heelstoppers at all National Trust and Heritage Stately Home events to protect their floors.
Simply put on a pair of 'Clean Heels' heel stoppers, enjoy your day, then either dispose of them or rinse them off and pop them in your bag, ready for another day. 'Clean Heels' heel stoppers have a flexible tube to fit all stiletto heels in a Clear or Black version.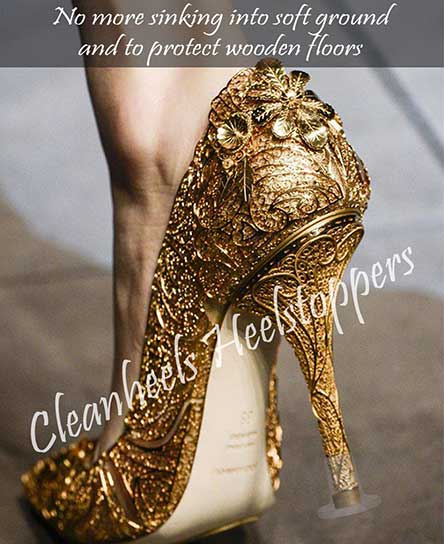 For that special day, try the Crystal Rose or Swaroski crystals, to add that extra glam, exclusive to the website. The tubing protects the heel from mud stains, and can be cut to the desired depth.
CLEANHEELS ON TV...GMTV, Chick Fix, Hollyoaks, The Lost Valentine (film), The Chris Evans Show and many more.