Joanne Orr Carriages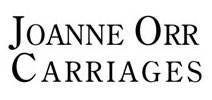 For the carriage you always dreamed of ... From a celebrity pumpkin to a princess coach.
We provide a professional service of the very highest standard, covering all of Ireland to meet your requirements.
Based on a unique range of carriages, a choice of prize-winning horses and many years of experience we have a proven commitment to excellence and making your day the best possible.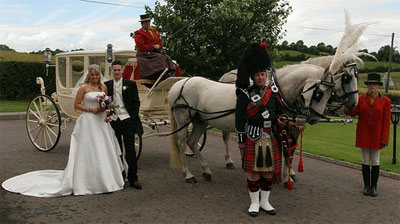 We have carefully chosen carriages from the best in Ireland, Britain and Europe, which combine style, spacious interiors, excellent visibility and good weather protection.
The carriages carry a choice of large ornate lamps, bouquets or garlands of flowers.
Gliding along in a luxurious carriage, with only the sounds of a matching pair of horses, is the most relaxing way for you to travel to your wedding, the most stunning way for you to be seen to arrive and the most romantic way for you to leave.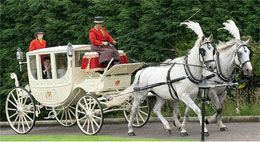 Services
From your lofty seat you can see everything, and everyone will see you as you arrive and leave in a style that nothing else could ever match along with ideal settings for your photographs and videos that will be talked about for years after.