Gerry Donnelly Weddings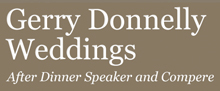 I have been working extensively on the after-dinner circuit for some ten years. During this time I have guested at a lengthy raft of corporate functions on the sports and commercial sectors.
I have also on occasion carried out the duties of Master of Ceremonies and hosted presentations. Against this backdrop I feel that I can help you with your wedding planning or at least with that historically awkward yet important facet, "the speeches".
My role as I see it would be to infuse some humour into the proceedings and at the same time help alleviate the fears and concerns of those for whom public speaking holds terror.

I believe this service is worthy of consideration. To discuss same, please contact me at any of the following.
Tel: 028 7946 9109
Mobile 078 0175 6055
Email: info@gerrydonnellyweddings.com
Gerry Donnelly Weddings
www.gerrydonnellyweddings.com

"Gerry carried out his duties with total professionalism both in the build up to our wedding when we were planning our speeches and on the wedding day itself. On our wedding day Gerry ensured that the speeches ran like clockwork and made all of the speakers feel completely at ease; he even had the guests in fits of laughter! The best money we spent on our wedding day. Thank you Gerry."
Kim and Michael

"Gerry - just a quick note to thank you for being Master of Ceremonies on our wedding day. As you would know the speeches at a wedding can be long and meaningless but with you in control and with your professionalism everyone (guests and wedding party) felt at ease and enjoyed themselves. Many thanks again."
Gavin and Jennifer