Classic Chambers - Luxury Mobile Loos

Welcome to Classic Chambers
Classic Chambers provides exclusive loos to events across the north of England. We take pride in being a very friendly and approachable company, whilst providing extraordinary mobile toilets with a professional service.
We have experience in supplying luxury toilets for a broad range of events ranging from private parties and weddings through to prestigious corporate functions and sporting events. We provide toilet hire in Cumbria, Lancashire, Yorkshire, Cheshire, Northumberland, Durham, Merseyside and Greater Manchester.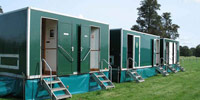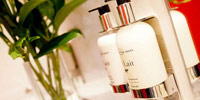 The Classic Range
The Classic range of mobile toilets are available in various sizes to suit the scale of your event and we provide advice about which model would be required for any given circumstance.
WC3 – The Next Generation
A brand new product for 2012, the WC3 concept is all about providing loos that are an integrated feature of your special event. Underlying WC3 is the latest vacuum technology using a freshwater flush system, free of any chemicals and only requiring 0.5l of water per flush. This makes it an environmentally sustainable, clean and fresh approach to mobile loos. With every flush the air is changed in the WC cubicle eliminating the need for deodorisers of any sort.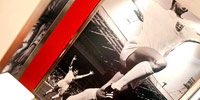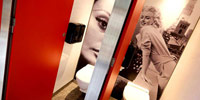 Events
From weddings and private celebrations to corporate launch parties, VIP areas and sporting events, we can deliver a package that exceeds your expectations. We discuss your requirements and provide a recommendation for toilet hire that we believe is right for your event.
The company continues to add flare to their mobile washrooms with designer fittings, professional lighting schemes and modern artwork, all seamlessly incorporated to create fabulous loos.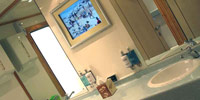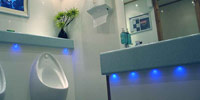 Feature Marquees Article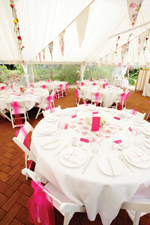 Marquees give your wedding a unique atmosphere. They instantly create an air of expectation, as they are a setting away from everyday life.
They are positioned specially in that area, to mark your wondrous occasion. They look sensational when erected in the right way, by a reputable company. However do it wrong and your wedding will end up looking like the dodgy summer camps of your childhood, where you hid morning, noon and night in your sleeping bag, to escape the drips of rain that are weaving their way ever closer to your forehead. In short - miserable.
More Marquees in North East England near Classic Chambers - Luxury Mobile Loos
Party Town Ireland

Free standing frame Marquees with no centre poles or guide ropes
High quality aluminium and fire retardant white PVC
Georgian style windows
Available to hire all year round.

---

Westmorland Marquee Hire
Dalton Hall, Carnforth
Evans Marquee Hire
Butler Works, Lancaster
Killington Marquees
Killington Hall, Carnforth
Eco Event
Prospect Farm, Colne
Nationwide Marquee Hire Ltd
Unit 20/Barnfield Business Centre, Nelson
Abdalis Events
Legrams Mill, Bradford
North West Marquee Hire
Unit 2-3 Plox Brow, Preston
North West Marqees
Plox Brow, Preston
Rent A Tent
2/Spencer House, Leeds
Crocodile Trading
Lancashire , Bolton
Tays Of Ripon Ltd
40 Borrage Lane, Ripon
Nymd
PO Box 506, Harrogate
Marquee-Events
Woodman Avenue, Elland
JDMG Hospitality Events
Unit 26/Woodman Works, Elland
JDMG Hospitality Events Ltd
Unit 26/Woodman Works, Elland
C & J
Century House, Richmond
Exclusive Entertainment
21 Fairways Avenue, Harrogate
Absolute Centre Stage Ltd
31 Eton Hall Business Park, Manchester
HX Ltd
77 Cliffe End Road, Huddersfield
In Tents (Yorkshire)
189 Blackmoorfoot Road, Huddersfield
Structure Matters
Paddock House Lane, Wetherby
Churchill & Simpson
Unit 10/Bridge Court, Leeds
Southport Marquees
PO Box 356, Southport
A1 Regal Marquees
134 Bradford Road, Dewsbury
Buile Hill Banqueting Suite
Salford City Council, salford
Ads Marquees
64 Brunswick Street, Leigh
James Dabbs & Co
Bretton Street, Dewsbury
Raj Tent Club
Apartment 36/Britannia Mills, Manchester
Euro Caterers
45 Railway Street, manchester
Mahood Marquees Ltd
Unit 8, St. Helens
More Marquees in the United Kingdom
More Marquees in Ireland
More wedding companies in Settle
More Marquees in Settle
0.28125 18.206.238.176 companylisting Ban:1, But:2 03/07/2020
Luxury portable toilets, Luxury loos, Luxury mobile loos, Toilet hire, Loo hire, Posh toilets, Posh loos, Toilet rental, Wedding Loos, Wedding toilets, Lancashire toilet hire, Toilet hire in Mancheste
"Luxury portable toilets, Luxury loos, Luxury mobile loos, Toilet hire, Loo hire, Posh toilets, Posh loos, Toilet rental, Wedding Loos, Wedding toilets, Lancashire toilet hire, Toilet hire in Manchest