Diamondland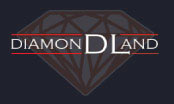 Diamonds from Diamondland
Buy Diamonds and Diamond Jewellery directly at the source from Diamondland, the largest Diamond Shop in Antwerp, World Diamond Center!
"It's true that a kiss on the hand is quite Continental, but when romance is in the air and cupid is drawing back the bowstring your amour will most likely want more.
But where should you go to combine a romantic break with the chance to find perhaps the most important stone of your life? The answer: Belgium's second largest city: Antwerp."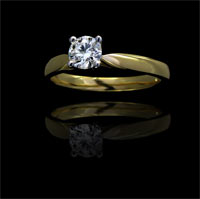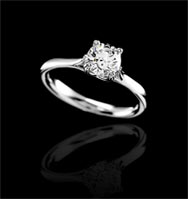 The Diamondland Selection: A selection of fine jewellery by DiamondLand, the largest diamond showroom in Antwerp.
Visit us in the fashionable, fun loving Antwerp or choose the other option where we deliver to you.
Diamondland does not only have loose diamonds for sale, but also has a large collection of diamond engagement rings and other diamond jewellery.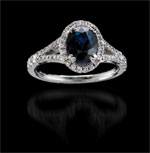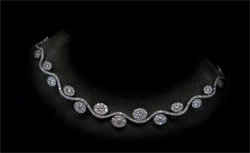 Buying diamonds in the Antwerp World Diamond Center ( Antwerpen in Dutch, Anvers in French, Amberes in Spanish ) is an opportunity to visit one of Europe's most spectacular and romantic cities. A place to be that will thrill you!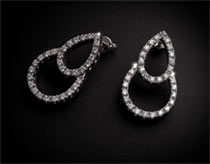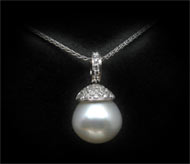 Feature Jewellery & Rings Article
Love is in the air for many couples and in between the sheets as 20% of men surveyed on MensHealth.com and 18% of brides surveyed on TheKnot.com said their sex lives have increased since becoming engaged.
Surprisingly, however, almost half of brides (48%) and 43% of men said they did not celebrate with sex on the night of their engagement.
The fifth-annual Proposal and Engagement Survey From the two websites has revealed what men and women are thinking and doing during one of life's most personal moments.
More Jewellery & Rings in Other near Diamondland
Robinson Goldsmiths

The Robinsons are Award Winning Jewellery designers with more than 25 years experience.

Handmade Wedding Rings
Designer Jewellery
Trollbeads
RG Jewellery
Gifts and Vouchers

---

Tiaras & Trinkets

Unique-Bespoke, Tiaras & Hair Accessories
Bridal Jewellery
Specialising in Crocheted Wire Tiaras & Jewellery
Costume Jewellery
Free U.K. P&P

---

Silver Beach
9 High Street, Broadstairs
Ashleys Jewellery Ltd
60 High Street, Broadstairs
Design 29
29 Queen Street, Ramsgate
Barry Carthew
53 Queen Street, Ramsgate
C J Howe
100 High Street, Deal
Gold Fusion
9 Gilford Road, Deal
H.Samuel
Unit 17/Westwood Cross, Broadstairs
Sovereign Diamonds
PO Box 102 Margate, KENT
Butterflies & Fairies
12 Pembroke Avenue, Margate
Kim Wood Jewellers
8B King Street, Sandwich
Paul Harrison
New Mill, Deal
John Angell Ltd
36 Biggin Street, Dover
H.Samuel
37 Sandgate Road, Folkestone
Oclee & Son Ltd
35 Sandgate Road, Folkestone
F.Hinds
38 Sandgate Road, Folkestone
Boreham Christopher
38 Hamilton Road, Felixstowe
Gold N Gifts
146 Mortimer Street, Herne Bay
Funky Fings
Meadow Lea, Herne Bay
The Vassallo Hand Made Jewellery
61A Connaught Avenue, Frinton-on-Sea
H.Samuel
94-96 London Rd North, Lowestoft
P J Gillman
168 London Road North, Lowestoft
Boreham Christopher
266 High Street, Harwich
Fitzgerald
26 Burgate, Canterbury
G Cornell & Sons Ltd
35 Burgate, Canterbury
Ernest Jones
14 Whitefriars Street, Canterbury
Palace Street Jewellers
16 Palace Street, Canterbury
Aztec Silver Designs
6 Butchery Lane, Canterbury
Goldsmiths
11 Gravel Walk, Canterbury
H.Samuel
Unit 18, Canterbury
Ortwin Thyssen
53 Palace Street, Canterbury
More Jewellery & Rings in the United Kingdom
More Jewellery & Rings in Ireland
More wedding companies in Broadstairs
More Jewellery & Rings in Broadstairs
0.6015625 3.215.182.36 companylisting Ban:1, But:2 07/12/2019
Antwerp Diamonds Worldwide, Diamond Shop UK, Diamonds Worldwide, Rings Nationwide, Jewellery, Antwerp, Diamond Center, World Diamond Center, Diamond Shop, Diamond Dealers, Certified Diamonds, Loose Di
"Looking for Antwerp Diamonds Worldwide, Diamond Shop UK, Diamonds Worldwide, Rings Nationwide, Jewellery, Antwerp, Diamond Center, World Diamond Center, Diamond Shop, Diamond Dealers, Certified Diamo