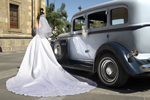 How you arrive at your wedding should reflect your personality and the overall theme for your day. Whether you choose to arrive in a car, horse drawn carriage, or on the back of a Ducatti Monster motorcycle, the choice is entirely up to you.
The only limits are that of your own imagination. This is the one moment in time where you are the VIP, so let your transportation announce your arrival.
Stick with Tradition
Vintage Vehicles are traditionally a popular means of transport. Not only do they make a statement as you arrive at your final destination, more practically they are spacious enough for your dress and have a roof to ensure that you remain in pristine condition. Most providers will have a selection of vintage vehicles for your perusal. Popular makes include: Rolls Royce, Daimler, Bentley, Mercedes, Austin. These makes may also come in a range of colours to co-ordinate with your theme.