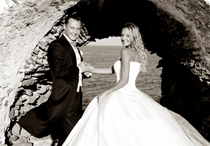 All eyes are on the bride on the big day and it's your time to shine. You may wish to undertake the ultimate wedding makeover or just arrive at the alter as a more polished version of yourself.
You are what you eat
Stop and think about how you are fuelling your body. All the exercise in the world is useless without a healthy diet. It may sound boring but to achieve your goals you need to cut down on sugary foods and alcohol. Choose foods that release energy slowly, think rice, nuts and seeds. Balance food groups and avoid eating too many fatty things.