Wedding Receptions
Your wedding day is going to be one of the most important days of your life, and naturally you want the best memories to go with it. At Salty Dog we provide the perfect venue, whether it's for a small intimate affair or for a larger party.
We have dedicated staff who can go through your exact requirements for the day and help create a bespoke and personal plan that's right just for you, making sure nothing is left to chance. From big decisions about numbers, food and drinks down to the small details like table-cloths and napkins we're here to help.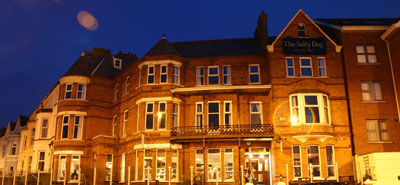 If you're interested in discussing your wedding options with us, get in touch and ask to speak to staff about planning your big day. Better yet, call in to see us and find out why Salty Dog is the perfect venue for the perfect wedding.
The Salty Dog Hotel and Bistro offers great food and drink by the sea...
At Bangor's Salty Dog Hotel and Bistro things have changed. Committed to fine local produce, our highly skilled, award winning chefs, led by Derek Creagh, now offer a real dining alternative to Belfast's restaurants. Whether you're visiting North Down's attractions or want a memorable Bangor night out – The Salty Dog offers accessible, nostalgic food in a relaxed setting. For a complete unwind, stay over and enjoy one of our stunning sea view rooms.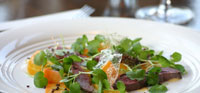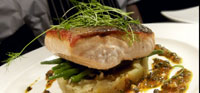 Serving up Northern Ireland's finest, locally sourced, fresh produce
At The Salty Dog every dish is prepared to order and that's important. It matters to us you get the absolute best from our kitchen - every time! This is why we pay so much attention to detail, ensuring we source and prepare, to exacting standards, the finest local produce.
With an award winning kitchen team you wouldn't expect anything less than first class, but that's just one part of The Salty Dog dining experience. Here, by the sea in Bangor, it's about using our natural environment and passion for customer service to make your visit totally memorable.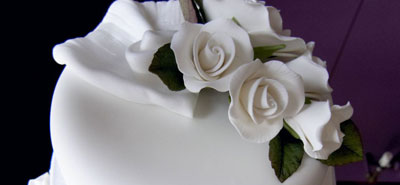 Guest rooms
"...wake up each morning to glorious views of The Irish Sea and Bangor Marina"
Whether you're looking for a weekend escape, visiting from abroad or just fancy a change of scenery, you'll find The Salty Dog Hotel waiting with open arms. Here, you'll discover relaxed, comfortable rooms all designed to give you that well earned rest. Best of all, each morning when you draw back the curtains you'll soak up that ever changing and captivating view of the Irish Sea.
Click
here
to get in touch.