PRAGUE & BEYOND
Your perfect Wedding or Honeymood Destination
National parks, stunning castles and chateaux, pretty villages, medieval towns and modern cities define the landscape of the Czech Republic, small but picturesque country in the middle of Europe. It claims to be one of the most romantic places in the world mainly thanks to its capital Prague.
The city's gorgeous architecture covering almost every historical period, fascinating history and great art in combination with the romance of gas-lit cobbled streets and notorious places for lovers such as Petrin Hill or Kampa park makes Prague an ideal all-year-round wedding and honeymoon destination.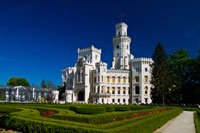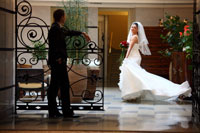 The Czech Republic has excellent options for wedding venues and hotels either in Prague or in the countryside at any of the local romantic chateaux or castles of which the country has the highest density per sq km in the world. Whether you are looking for church or civil wedding, a ceremony in a beautiful garden or chateau park, you are at the right place. Number of experienced local wedding planners are ready to help you arrange everything and it is a great value for money.
Recommended Venues In Prague:
Vrtbovska Garden
- palace garden with an intimately romantic atmosphere just below the Petřín Hill, it is also location for summer outdoor chamber concerts
Ledeburska garden
– terraced garden below the Prague Castle features a quite, intimate venue with unique views of Prague
Vinicni altan
- a historical monument in the middle of a charming vineyard in the residential district of Vinohrady near the city centre
The Augustine Hotel
– enjoy luxury of one of the best hotels in Prague located in Lesser Town not far from Prague Castle
Aria Hotel
- get ready for a fairytale wedding including festivities, accommodation for the wedding party, an elegant reception at the CODA Restaurant and a magnificent wedding banquet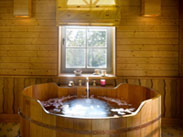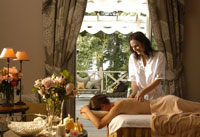 Wedding/ Honeymoon Venues out of Prague
Hluboká nad Vltavou castle
– one of the most popular Czech wedding venues located in the South Bohemia 2 hours drive from Prague. The castle architecture is inspired by neo-gothic Windsor style.
Chateau Mcely
– spa hotel and forest retreat located in a romantic chateau and surrounded by English park just an hour drive from Prague. This eco-resort features first class spa which uses its own bio cosmetic range.
Dobříš Chateau
- uniquely designed Rococo French garden known as the 'Czech Schönbrunn'
about 1 hour from Prague
Valtice chateau
– Moravian Baroque chateau featuring splendid gardens of the chateau park located about 1 hour from Brno – second largest city in the Czech Republic with direct flights from UK.
For detailed list of wedding venues, planners and more information about the Czech Republic
visit our website: http://weddings.czechtourism.com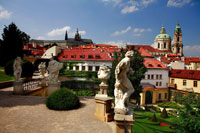 Practical Information
For holding a wedding in the Czech Republic, foreign citizens are required by law to have:
A valid passport.
An official birth certificate.
An attestation of the legal right of both parties to conclude the wedding, which must contain their names and surnames, dates and places of birth, permanent address, citizenship and current marital state. Divorced persons must also supply a divorce certificate, while widowed persons must include the death certificate of the deceased partner.
Confirmation of legal presence in the Czech Republic, issued by the Czech Immigration Police (not older than 7 working days).