Wedding Feature
Team GB Hopeful Leaps Over Blushing Brides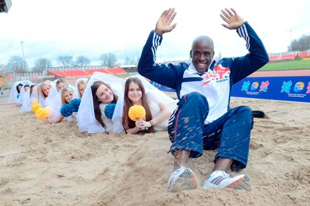 Blushing brides brandishing bouquets have proven to be no Olympic hurdle for Team GB long jump hopeful, JJ Jegede, as he "leap"-froged over them on February 29- the only day women can propose.
Like Olympic athletes, for the country's women, some chances only come round every four years.
As thousands of our athletes are putting forward their proposals for inclusion in the London games, many women across Britain were doing the same - with a summer wedding rather than a gold medal their ultimate goal.
Tradition dictates that, according to old folk laws, 29 February is the only day women are able to pop the question to potential grooms. The quirky tradition, which dates back to the twelfth Century, also allows besotted ladies to ask for their man's hand in marriage once every Leap, or indeed Olympic, Year.
JJ Jegede, Team GB Long Jumper, said: "Jumping at a competitive level is intense, but leaping over 12 brides is certainly quite a challenge! With this sort of training, I'm certain I'll be ready for anything at London 2012."
Stephen Vaughan, Managing Director of Thomas Cook London 2012 Partnership, commented: "As a company built on traditions, having taken customers to the first modern Olympic Games in 1908, we hope to see lots of wedding rings alongside the famous five rings this year.
"Although Leap day is for our ladies, we are also hoping to inspire our gents to go for gold at the Games. With our Short Breaks, you could treat the lady in your life to a night in a top London hotel and even pop the question at the equestrian. London 2012 is the event of a lifetime and our best destination for a proposal yet."
But be warned, for those men who turned down the plucky woman, tradition also states that they must compensate their proposer with a new dress, silk gloves or even just a kiss.
---
Wedding Features
Perfect Weddings Abroad
Unveil A Better You At The Altar
Secure Your Dream Venue
Advice For Mother Of Bride/Groom
Gorgeous Goodies For Your Big Day
Wedding Catering For Foodies
Marvin Humes And Rochelle Wisemen Wedding Venue Revealed
Facebook Wedding Boost For The Little White Dress Shop
Perrie Edwards Is Happy With 1D's Zayn Malik
New Chapter For Aldenham Park
Diamond Couples Celebrate At Jubilee Party
Black Eyed Peas Hit Tops Wedding Playlists
Secret To Happy Marriage Revealed
Petra Ecclestone Shares Wedding Snap
Golf Champ Darren Clarke Marries His Birdie
Lovers 'No Good' At Spotting Others In Love
Ben & Jerry's Say 'I do' To Same Sex Marriage
Men Embrace Man-Gagement Rings
Team GB Hopeful Leaps Over Blushing Brides
Royal Wedding William And Catherine Barbies Announced
Wedding News
LeToya Luckett-Walker is expecting her second child.
Charlotte Crosby has found a new romance in the wake of her split from Ryan Gallagher.
Lydia Bright has given a brutally honest interview about giving birth to her baby daughter Loretta.
Lana Del Ray has split up with her police officer boyfriend.
Actress and businesswoman Angelica Ross was left stunned this week when a simple Twitter post led to the discovery that her boyfriend has a fiancée and a child.
Ashley Graham has told of how she found breastfeeding "really difficult".
Susanna Reid is determined to celebrate her mum this Mother's Day despite being in self-isolation.
Actor and producer Lin-Manuel Miranda is learning how to homeschool now that his family are self-isolating.
Kristen Bell is bursting with pride for her two young daughters after they donated to charity.
The Duke and Duchess of Cambridge's children Prince George and Princess Charlotte will now be homeschooled as schools close across the UK.