The Party Photobooth Company
are your one-stop shop for photobooth hire; we provide portable photobooths, props, guest photo albums at one great, all-inclusive, price. Itís a fantastic, inclusive and fun way to entertain your guests, whilst capturing those precious & spontaneous memories on photograph (we include the photo album, the props and a planted tree as part of the one price).
Party hosts Ė whether for wedding, civil partnership ceremonies, a Bar Mitzvah, a birthday party or a corporate product launch Ė are always looking for ways to entertain their guests. The Party Photobooth Company can help to create the buzz and excitement for the event.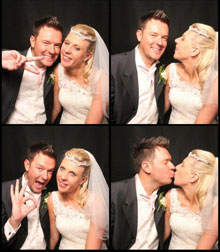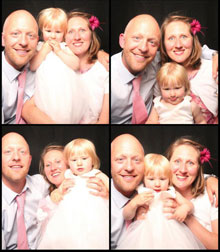 About Us
We work closely with our partners across the UK to provide the best possible entertainment package, covering the South Coast for our photo booth hire which includes London, Oxford, Swindon, Bristol, Plymouth, Exeter, Bournemouth (our base), Southampton, Portsmouth, Brighton and anywhere in between!
Why choose a photobooth for your event? Fun, laughter, dressing up, posing, taking group photos of you and your friends Ö. thatís what gets people coming back again and again to a Party Photobooth booth (unlimited visits to the photobooth are all part of the same great package). A photobooth could be a nostalgic walk down memory lane, but itís ALL about having fun and giving fun to your guests. Nothing can beat a good photographer but the spontaneity and fun of an event can sometimes get lost; thatís where a Party Photobooth comes in to itsí own.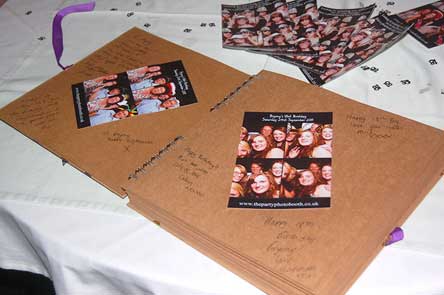 Weddings
Is it a photobooth or a photo booth? Does it really matter? No, not really! Itís your wedding day and what you want is something fun, a bit quirky, a bit different that everyone, whatever their age can enjoy. Youíve booked the venue, the cake, the dress, Ö.. now itís time to look for the wedding entertainment.
Brides (and grooms) are always looking for that special something; whether itís a particular flower arrangement, wedding invitation or venue, itís very important to get it right. The entertainment package is no different. Pretty much everyone has music of some sort (and quality!) for their wedding Ė singing waiters, disco, live band Ė and that is pretty much the norm. But, and itís a big but, music quite often doesnít involve all the guests and quite often thereís no one on hand to capture that particular moment when your grandmother dances with her youngest grandson.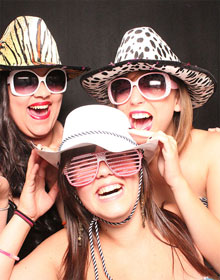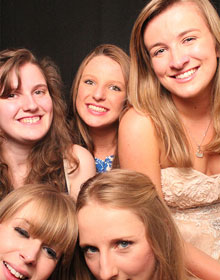 Thatís where our wedding photo booth comes in! Because whether itís 3 of your best mates or a family group or all the children, everyone is bound to have a great time in the photobooth having their photo taken.
John F Kennedy and Jackie Kennedy used them on at least two occasions Ė and it is the simple process, the four poses that allow four different images that make it work so simply and effectively (weíre not saying that theyíve appeared in our photobooths!).