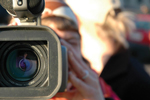 Videography would seem like a new and recent addition to weddings. In fact it has quietly been recording all the happy memories for at least 30 years.
Whilst it may be tempting to ditch the videography if you are on a tight budget, or ask a friend to step into the gap with an amateur video, it is worth bearing in mind, if you end up on 'You've been framed' because you or your groom passed out at the altar, you at least want him to look good. For this you need a professional.
On watching your wedding video, you will pick up on all the little things that you missed. Your wedding day, has a nasty habit of passing you by in a blur. It is nice to have a keepsake/reminder of how happy you both were. If you do choose to book a professional arrange to meet with them and view their work. You should be able to tell from their portfolio if their style of videography suits you.