We specialise in providing touch screen Video Guestbook Kiosks - a fantastic and innovative addition for any wedding, party or event.
Once installed at your venue, our Video Guestbook Kiosks operate with no staff in attendance!

Guests simply touch the screen to record live personal video messages whenever they choose throughout the day & evening and the hosts receive an exclusive DVD of their guests recorded messages to keep forever!
The hire covers the full duration of your special occasion, from the first guest arriving until the last one leaves!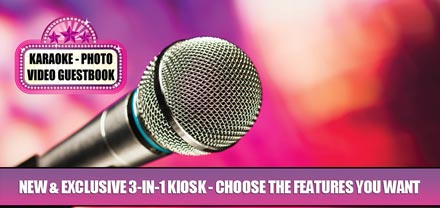 Our freestanding kiosks use minimal floor space and are equipped with HD Cameras and high quality microphones to provide you with DVD Quality Videos!
We deliver, set-up and install at your venue, collect after the event has finished, provide you with an online web gallery to view all the video clips and edit (if required) then send you the DVD!
Have a look around our site, view some sample clips, read about some of the events we have attended and book a kiosk for your event. With full UK coverage and numerous kiosks, we are sure to have availability for your event - no matter the size.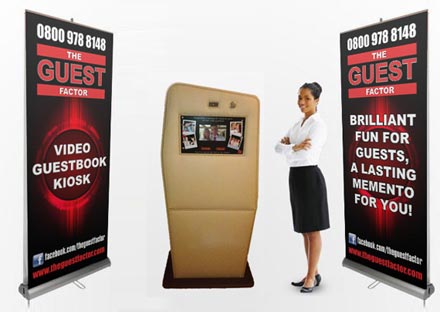 Wedding Video Guestbooks
One of our Video Kiosks add an extra element of fun to your big day and create a lasting memento at the same time by placing a Guest Factor Wedding Video Guestbook Kiosk in your reception area. The Guest Factor wedding video kiosk takes up only a small area of space, leaving plenty of room to party, but makes a big impact on the night and provides hours of entertainment as you relive your big event.
Guests simply touch the screen to start the recording and then touch the stop button to finish their video recording. Capture congratulatory video messages while you have your photographs taken; then invite guests to chat, share memories or even sing as the video messages pile up and the night gets going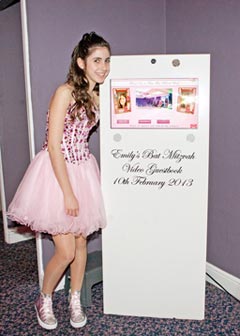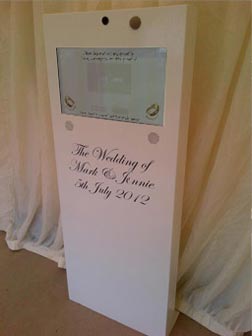 Yours for 24 hours, the Guest Factor wedding video guestbook kiosk is an attractive addition to your reception, inviting and easy to use, and available from your first guest arriving, until the last one leaves. You can even personalise the screen and kiosk front to match your wedding style.
After the wedding, we'll upload your video clips to an online gallery for you to share with your guests, and send you a personalised DVD of all the clips you choose from the online gallery.