Wedding Feature
Wedding Videography Sussed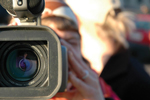 Videography would seem like a new and recent addition to weddings. In fact it has quietly been recording all the happy memories for at least 30 years.
Whilst it may be tempting to ditch the videography if you are on a tight budget, or ask a friend to step into the gap with an amateur video, it is worth bearing in mind, if you end up on 'You've been framed' because you or your groom passed out at the altar, you at least want him to look good. For this you need a professional.
On watching your wedding video, you will pick up on all the little things that you missed. Your wedding day, has a nasty habit of passing you by in a blur. It is nice to have a keepsake/reminder of how happy you both were. If you do choose to book a professional arrange to meet with them and view their work. You should be able to tell from their portfolio if their style of videography suits you.
You need to ask about any hidden extras such as extra camera's which will incur further charges.
Research the style of your videographer - their footage will give you all the clues you need:
The Run Around
Lots of movement shots and footage of guests and children.
Candid shots are great for catching the smaller details. They capture moments that even you, may not be aware happened. However running to and fro to capture every tiny detail, can be distracting to guests. If your videographer follows this format, then make sure that you ask him to be as discreet as possible, so that everyone gets to enjoy your special day.
Static Controller
You will have lots of stationary steady shots with horizontal panning.
These shots are perfect for ceremony and speeches. That said, it is only when the videographer moves about, that you find the hidden gems of memories that would normally get missed.
Directors Cut
Fakery, forced smiles and rigid movements in shots. It may be helpful for your photographer to direct, you and more importantly your guests. This is not the case for your videographer. Don't get bullied into a scene from Romeo and Juliet, if the footage looks too performed be very wary. You don't want your wedding day to become more about the videographer than it is about you.
Toy Boy
Confusion and bewilderment on the face of the poor unfortunate who is left to try out his latest device. It can be reassuring to know that your service provider has a working knowledge of industry trends and is in keeping with the latest and best equipment however you do not want its first outing to be at your nuptials. Especially if the item in question is a transmitter or small camera, worn by the groom. The James Bond novelty factor will wear off within the first fifteen minutes and the camera is quickly forgotten about. These items may be great for capturing features and sound during the vows and speeches, but they should not be worn for more than an hour. No-one wants to watch your groom nipping to the bathroom.
Editing is another aspect that needs consideration. There are a number of ways that this is completed. An amateur wedding video is generally raw footage. There are no camera tricks or musical sound bites included. A professional will be able to take the raw footage and turn it into something quite magical.
Ask if there is an extra charge for the editing. Some videographers include this in the package, others do not. Find out exactly what you are paying for, including how many copies of the finished product you can expect to receive. It may be worth asking if you are able to get extra copies for friends and relatives and the cost this will incur.
Some videographers will offer extra services, such as interviews with guests. Others offer the option for the bridal party and guests to take part in a choreographed dance routine, to a favourite piece of music.
The services are as wide and varied, as the tastes of Bride's across the country. A little time and patience and you will find the video perfect for your Hollywood debut.
---
Wedding Features
Perfect Weddings Abroad
Unveil A Better You At The Altar
Secure Your Dream Venue
Advice For Mother Of Bride/Groom
Gorgeous Goodies For Your Big Day
Wedding Catering For Foodies
Marvin Humes And Rochelle Wisemen Wedding Venue Revealed
Facebook Wedding Boost For The Little White Dress Shop
Perrie Edwards Is Happy With 1D's Zayn Malik
New Chapter For Aldenham Park
Diamond Couples Celebrate At Jubilee Party
Black Eyed Peas Hit Tops Wedding Playlists
Secret To Happy Marriage Revealed
Petra Ecclestone Shares Wedding Snap
Golf Champ Darren Clarke Marries His Birdie
Lovers 'No Good' At Spotting Others In Love
Ben & Jerry's Say 'I do' To Same Sex Marriage
Men Embrace Man-Gagement Rings
Team GB Hopeful Leaps Over Blushing Brides
Royal Wedding William And Catherine Barbies Announced
Wedding News
LeToya Luckett-Walker is expecting her second child.
Charlotte Crosby has found a new romance in the wake of her split from Ryan Gallagher.
Lydia Bright has given a brutally honest interview about giving birth to her baby daughter Loretta.
Lana Del Ray has split up with her police officer boyfriend.
Actress and businesswoman Angelica Ross was left stunned this week when a simple Twitter post led to the discovery that her boyfriend has a fiancée and a child.
Ashley Graham has told of how she found breastfeeding "really difficult".
Susanna Reid is determined to celebrate her mum this Mother's Day despite being in self-isolation.
Actor and producer Lin-Manuel Miranda is learning how to homeschool now that his family are self-isolating.
Kristen Bell is bursting with pride for her two young daughters after they donated to charity.
The Duke and Duchess of Cambridge's children Prince George and Princess Charlotte will now be homeschooled as schools close across the UK.