Ferguson Flowers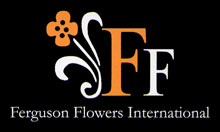 Welcome to Ferguson Flowers' Wedding Guide!
Established in 1975, Ferguson Flowers has become one of Ireland's premier chains of flower shops. We have various outlets throughout the province including our flagship store which holds a prime location in Belfast City Centre.
Ferguson Flowers carry a varied range of flowers at all times, with daily imports from around the world. This means we can import even the most unusual and exotic flowers for those with specific requirements.
Having been wedding specialists for over thirty five years we have the expertise needed in providing you with ideas and quotations for your special day.
Our florists are constantly being kept up to date with changing trends and fashions and enjoy experimenting with new styles and combinations This ensures we have the ability to create any bride's vision.
Our flagship store in Wellington Place has a dedicated area for private consultations. Here you will find a variety of mood boards for inspiration, everything from a classic monochrome theme to something more vintage and anything in between.
We also hold a wide range of books and up to date magazines for those who wish to ensure their flowers are in vogue with the latest trends. Each bride can enjoy consultations with one of our friendly members of staff who are happy to provide advice and guidance on all aspects of your bridal flowers.
We cater for all budgets and no request is too little or too large!
Wedding Packages Available:
Bronze Package
Bride Bouquet
2 x Bridesmaid Bouquet
Flower Girls Bouquet
Bridal Party Button Holes
Ceremony Arrangement
£300
Silver Package
Bride Bouquet
2 x Bridesmaid Bouquet
Flower Girls Bouquet
Bridal Party Button Holes
Bridal Party Corsages
2 x Pedestal Arrangement
1 x Altar Arrangement
2 x Decorated Bay Trees (for hire)
£600
Gold Package
Bride Bouquet
2 x Bridesmaid Bouquet
Flower Girls Bouquet
Bridal Party Button Holes
Bridal Party Corsages
2 x Pedestal Arrangement
1 x Altar Arrangement
2 x Decorated Bay Trees (for hire)
2 x Thank You Bouquets
10 x Table Centres
£900
Platinum Package
Bride Bouquet
2 x Bridesmaid Bouquet
Flower Girls Bouquet
Bridal Party Button Holes
Bridal Party Corsages
2 x Pedestal Arrangement
1 x Altar Arrangement
2 x Decorated Bay Trees (for hire)
10 x Pew Ends
Cake Flowers
2 x Thank You Bouquets
15 x Table Centres
£1500