Cormac's Finely Snapped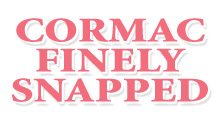 Cormac Finely Snapped is an established company based in the Co. Down area. You will find varying packages and mixed styles of photography which will bring the memories of your wedding to life, for years to come.
Cormac's focus is on you and the day as a whole, from the preparations in the bride's house, to the presentation of the rings and the cutting of the cake. We can offer you an informal style, marrying together impromptu reportage photography with more directed shots. We aim to cover the action, emotion and elation of the day, whilst incorporating traditional photos of your family and friends.
Packages and Offers.
Organising a wedding is a huge undertaking.  Cormac aims to make your wedding shoot flow with ease. I offer you a number of flexible packages to suit all needs and budgets. It is our intention to capture the small details from the flowers, to the cake to the first magical kiss, as we know how important your wedding album will be to you.
I will capture your special moments on camera, building up the romance of your day while making the bride and groom the centre of attention, and ensuring that you hold dear all the charm and memories forever.
I let the day pass at your pace and guide you though the traditional photos quickly and unobtrusively, letting your nearest and dearest move on to your venue to enjoy the hospitality. Each Bride is an individual so we capture a few classic and contemporary portraits of you and your groom whilst keeping the time to a minimum so you to can get the most from your day.