Wedding Feature
Get Snap Happy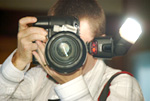 Your wedding photographs will be around for many years to come.
For this reason it is imperative that you take your time when choosing your wedding photographer so do not be tempted to skimp on price and go with the cheapest option.
If your pictures are not what you expected, you will be thoroughly disappointed at your false economy. Worse still, if they are poor quality there is little that you can do to rectify the situation. Careful planning and negotiation is the only way to ensure that you have the wedding album of your dreams.
Research reputable companies and take the time to go through their portfolios and meet with the photographer that will be taking your pictures on the day. This is especially important if you are using a photographic agency.
There is little point in meeting with a photographer who will not be taking your pictures. You must feel at ease and like the personality of your photographer. An intrusive photographer that will not follow instruction and tries to direct you so that he can put his personal stamp on your day will be a source of much agitation. However one that makes you feel relaxed and confident will add to the day and produce a much better album.
When you meet with your photographer your need to discuss the style of pictures that you wish to have. Photographers will generally use these two phrases when describing their styles:
Reportage - Informal/ candid photographs snapped throughout the day, this style can capture the memories that you didn't spot on the day itself.
Traditional - Formal posed shots, the ones that your parents, grandparents and great grandparents possess. These serve as a good way to ensure that no important relatives or friends end up missing from your album.
Neither style is better than the other, it is simply a question of personal taste. Some photographers do offer a mixture of both photographic styles and you may find that this option works best for you.
Whilst considering style, it is worth deciding whether you wish to have a selection of black and white photographs mixed with colour or a full colour set in your album.
Ask your photographer what type of equipment they use and if they have a back-up should an unforeseen problem occur. At this point you should ask if there is the option to have two photographers the morning of the wedding, one for the brides home and the other for the groom. This will give a nice glimpse into the wedding preparations that you both would not normally get to see. Ask what packages they offer and see if they can be customised to suit your budget and style requirements.
You should ask at this point about delivery time. Some photographers will have a few of your images ready to be taken home on the day of your wedding. Others offer a service to view your images online whilst on honeymoon. Some like to keep things traditional and offer a collection or delivery service on your return home. Check what you will be receiving on completion. Can you get a CD of all the images including unmarked proofs or do you only get the images you have selected for the album and does this incur an extra charge?
Before your wedding day sit down with your photographer and work out a schedule for your day. If you want to have pictures of the morning's wedding preparations, agree a start time with your photographer. If you are having your hair and makeup styled anywhere other than your home then you will need to give your photographer instructions on how to get to the salon. Remember that you will need to allow time for travel and that this may also incur a small fee. Ask now so to avoid any extra charges. You need to provide the photographer with details of the ceremony venue and start time.
After which you need to decide on the location for the main set of your pictures. You may choose to have these taken in the grounds of your reception venue, family home or at an area of natural beauty close by. Some popular areas include; the Giants Causeway, Tullymore Forest Park, Fermanagh Lakes, Mussenden Temple and Crawfordsburn Country Park. Think about the areas close to where you are getting married. Remember to consider the weather of the season, there is little point in planning to have wedding photography taken outside if you are getting married in the winter. Have a backup plan indoors incase of poor weather conditions. You need to decide a point at which your photographer is free to leave.
Some couples are happy for the photographer to go after the main pictures, but most like them to remain on site until the first dance. If your photographer is staying until the evening it is good manners to offer them a meal. This does not have to be the same meal as your guests are enjoying, a single course and a drink is perfectly acceptable.
As with all suppliers make sure that your photographer provides you with a contract of services, your wedding photography will be cherished for years to come and this is the best way to ensure that you have the perfect picture.
When you are getting your pictures taken, don't slouch, keep your shoulders back and pull your stomach in. Lift your chin slightly to add poise and give the impression of a slender neck and decolletage. Place one foot in front of the other at a 45 degree angle as this will lengthen your frame. Be natural when you are kissing your groom, don't screw your face up due to embarrassment.
This is the one time when you are allowed public displays of affection, in fact it is expected, your friends and family want to see that you are in love. Remember to smile naturally. If you feel uncomfortable in front of the camera practise at home, throw your head back as you would if you were heartily laughing, think of an event that really made you giggle. Bring your head back to its natural position and you will see your natural smile. You may feel silly doing this but on the day of your wedding you will be relaxed and your natural happiness will shine through in your photography.
Photography Check List
Pre-Ceremony Photos:
•Flowers and decoration at the ceremony venue
•Bride leaving her house
•Wedding rings with the invitation
•Bride getting dressed for the ceremony
•Bride's mother putting on her corsage
•Bride looking at her bridal bouquet
•Maid of honor putting garter on bride's leg
•Groom and best man before ceremony
•Bride by herself
•Bride and mother
•Bride and father
•Bride and mother and father
•Bride and family
•Bride with maid of honour
•Bride and bridesmaids
•Bride and flower girl and/or ring bearer
•Groom leaving house
•Groom putting on boutonniere
•Groom and mother
•Groom and father
•Groom and mother and father
•Groom and family
•Groom and best man
•Groom and ushers
•Groom shaking hands with best man while looking at his watch
•Groom and brides father
•Bride and her father getting out of limousine
•Groom waiting for the bride before processional
•Bride and her father ready to start the processional
Ceremony Photos
•Bride and groom saying their vows
•Bride and groom exchanging rings
•Groom kissing the bride at the alter
•Bride and groom signing the register
•The reseccional
Post-Ceremony photos:
•Bride and groom
•Newlyweds with both of their families
•Newlyweds with the entire wedding party
Reception Photos:
•Entrance of newlyweds into reception site
•Toasts
•First dance
•Bride and her father dancing
•Groom and his mother dancing
•Bride dancing with groom's father
•Groom dancing with bride's mother
•Wedding party and guests dancing
•Cake table
•Cake-cutting ceremony
•The wedding party table
•Bride and groom waiving good-bye in the wedding car
---
Wedding Features
Perfect Weddings Abroad
Unveil A Better You At The Altar
Secure Your Dream Venue
Advice For Mother Of Bride/Groom
Gorgeous Goodies For Your Big Day
Wedding Catering For Foodies
Marvin Humes And Rochelle Wisemen Wedding Venue Revealed
Facebook Wedding Boost For The Little White Dress Shop
Perrie Edwards Is Happy With 1D's Zayn Malik
New Chapter For Aldenham Park
Diamond Couples Celebrate At Jubilee Party
Black Eyed Peas Hit Tops Wedding Playlists
Secret To Happy Marriage Revealed
Petra Ecclestone Shares Wedding Snap
Golf Champ Darren Clarke Marries His Birdie
Lovers 'No Good' At Spotting Others In Love
Ben & Jerry's Say 'I do' To Same Sex Marriage
Men Embrace Man-Gagement Rings
Team GB Hopeful Leaps Over Blushing Brides
Royal Wedding William And Catherine Barbies Announced
Wedding News
LeToya Luckett-Walker is expecting her second child.
Charlotte Crosby has found a new romance in the wake of her split from Ryan Gallagher.
Lydia Bright has given a brutally honest interview about giving birth to her baby daughter Loretta.
Lana Del Ray has split up with her police officer boyfriend.
Actress and businesswoman Angelica Ross was left stunned this week when a simple Twitter post led to the discovery that her boyfriend has a fiancée and a child.
Ashley Graham has told of how she found breastfeeding "really difficult".
Susanna Reid is determined to celebrate her mum this Mother's Day despite being in self-isolation.
Actor and producer Lin-Manuel Miranda is learning how to homeschool now that his family are self-isolating.
Kristen Bell is bursting with pride for her two young daughters after they donated to charity.
The Duke and Duchess of Cambridge's children Prince George and Princess Charlotte will now be homeschooled as schools close across the UK.