Modern and exclusive Groomswear
available in our two dedicated showrooms in Portadown and Magherafelt. Slim fit suits in grey and navy, also classic tails with double breasted waistcoats and an unmatched selection of ties.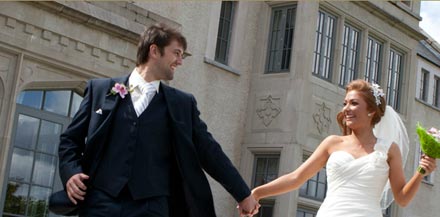 When it comes to choosing your groom's party attire, Debonair offer an outstanding choice of quality garments as well as a reliable and professional service. Be relaxed and confident on the day knowing that you and your party look superbly turned out.
Wedding Collections
Today's wedding attire is no longer restricted by rules and tradition with demand high on individuality. Whether you are looking for a timeless classic with a personal touch or a more adventurous and contemporary style, you will be able to create your perfect look from within our extensive range. Suit package prices include jackets, trousers and choice of shirt, neckwear and/ or waistcoat.

Evening Collections
Today there are many occasions that require formal dress such as formal dinners, school formals, corporate events, formal weddings, a day at the races, a voyage on a cruiseship. Whether you are looking for classical elegance or if you want to stand out from the crowd our evening collection will ensure you are perfectly turned out.
Suit package prices include jackets, trousers and choice of shirt, neckwear and/or waistcoat.
Day Wear Collections
A collection of two-button single breast suit length jackets for special occasions. Available in black, navy, grey and brown pin-stripe with matching trousers.
Waistcoats
Colours:
White, Silver & Light Grey
Ivory & Gold
Dark Grey, Navy & Black
Pink, Lilac, Purple and Red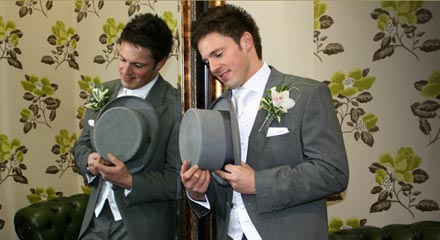 Neckwear
Ties
Choose from a large collection of plain and patterned neck ties.
Cravats
Find your colour from our extensive range of cravats. Should your chosen colour not be shown on our site, please contact us as our range is constantly being updated to match bridal colour schemes. You can also take advantage of our tailoring service to get your own material made into any style of neckwear.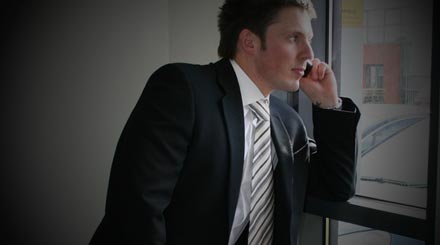 Bows
A full range of black, coloured and fancy bows is available.
Shirts
All our packages include a choice of laundered shirts. New shirts are available to hire at extra cost or for direct sale.
Accessories
Cufflinks
Top Hats & Gloves
Cummerbunds