Your Love Story
Tell your own love story in words and pictures with a luxury hardback coffee table book.
Itís a unique way to celebrate and remember forever your very own love story from the day you met, the first date, shared holidays, romantic memories, the proposal, your engagement and your wedding day ceremony and celebrations.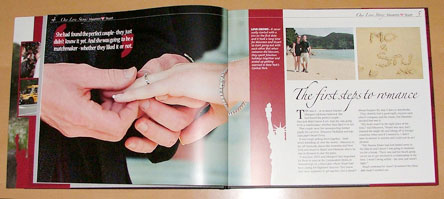 Our professional writers and designers at Your Story In A Book will create your large-size coffee table book that will make your wonderful memories last forever.
One of our large-sized books telling the bride and groom's very own love story would make a stunning and everlasting gift from the bridesmaids or the parents to the happy couple.
Or why not add your own book to your wedding gift list?
One bride who had a book created is Maureen Perry, from Helensburgh, in Scotland who said: ďOur Love Story book is beautiful - the quality is amazing. But the best thing is that it tells our story in words and that is the most important aspect to us.
''It is a real book all about our own love story that can be passed on to our children and future generations.
''Itís so much better than a normal wedding album with just photos because we now have a book that tells the story of our relationship.''
The journalist and author behind the newly-launched Your Story In A Book business, Norman Macdonald said:
''This is not a do-it-yourself photo album - this is a real book of words and pictures telling a coupleís own love story. And you can have one book, or as many books as you like printed.
''Just imagine, being able to relive all your romantic memories for years to come and then pass your book on to children and grandchildren.
''This is a once-in-a-lifetime purchase that lasts longer than a lifetime.''
Log on to
www.yourstoryinabook.co.uk
for more information.