Bewley's Hotel Leeds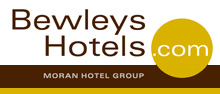 Welcome to Bewley's Hotel Leeds. This contemporary hotel offers the epitome of affordable chic in this cosmopolitan and vibrant young city. Just minutes from Leeds city centre and easily accessible to the M1/M62, Leeds Airport and Railway Station, this hotel provides a great base for visiting the area's popular tourist attractions like Elland Road, home of Leeds United, as well as a wide range of stylish department stores, shops and effervescent nightlife.
Perfect city location & just off M1/M62
Spacious guest rooms
Free Internet access
At Bewley's Hotel Leeds a great night's sleep is of paramount importance so all bedrooms are soundproofed and boast 'dive into bed' duvets and fluffy hypoallergenic pillows to ensure you awaken refreshed for the day ahead. For added convenience free WiFi is available in all public areas. High speed internet access is also available in our bedrooms via network cables.
For a light bite, leisurely lunch or dinner, the Brasserie Restaurant offers a menu guaranteed to suit the most discerning of palettes. Meanwhile the lounge bar is an ideal venue for informal business meetings, a light bite, pre-dinner drinks or simply getting away from it all...

More Hotels in Yorkshire & The Humber near Bewley's Hotel Leeds
Meridian Leisure Hotels

Holiday Inn Sofia
Holiday Inn Reading M4 Jct10
Holiday Inn Express Southampton M27 Jct17
Holiday Inn Express Birmingham Redditch
Exclusive Wedding Venues
Sofia Honeymoon Destination

---

City Inn Leeds
Granary Wharf, Leeds
The Hilton Leeds City
Neville Street, Leeds
Travelodge
Blayds Yard, Leeds
Malmaison Hotels
1 Swinegate, Leeds
Entrada Apartments
1 Waterloo Street, Leeds
Room City Ltd
10 Swinegate, Leeds
Discovery Inn
15 Bishopgate Street, Leeds
The Chambers
Riverside West, Leeds
Novotel
4 Whitehall Quay, Leeds
Jurys Inn
Kendell Street, Leeds
The Baby Grand Hotel Co PLC
42 The Calls, Leeds
The Queen's Hotel
City Square, Leeds
Quebecs
The Leeds Town House, Leeds
Brookfield Hotel
Brookfield Street, Leeds
Hotel Metropole
King Street, Leeds
Crowne Plaza
Wellington Street, Leeds
The Chambers
30 Park Place, Leeds
Radisson Blu Hotel
Cookridge Street, Leeds
Travelodge
Vicar Lane, Leeds
City Centre
51A New Briggate, Leeds
IBIS
23 Marlborough Street, Leeds
Premier Inn
Wellington Bridge Street, Leeds
Crescent Hotel
274 Dewsbury Road, Leeds
Holiday Inn Express
Cavendish Street, Leeds
Premier Inn
Kirkstall Road, Leeds
Glengarth Hotel
162 Woodsley Road, Leeds
Destination Marrakech Ltd
PO Box 153, Leeds
Cliff Lawn Hotel
45 Cliff Road, Leeds
Oak Villa Hotel
55-57 Cardigan Road, Leeds
Headingley Lodge
St. Michaels Lane, Leeds
More Hotels in the United Kingdom
More Hotels in Ireland
More wedding companies in Leeds
More Hotels in Leeds
0.2246094 18.204.227.117 companylisting Ban:1, But:3 28/05/2020
Hotel in Leeds, City Centre Hotel, Leeds Hotels, Hotels Leeds, Hotel Leeds, Leeds Hotel, Hotel in Leeds, Hotels in Leeds, Leeds accommodation, accommodation in Leeds, Meeting Rooms, weekend in Leeds,
"Hotel in Leeds, City Centre Hotel, Leeds Hotels, Hotels Leeds, Hotel Leeds, Leeds Hotel, Hotel in Leeds, Hotels in Leeds, Leeds accommodation, accommodation in Leeds, Meeting Rooms, weekend in Leeds,