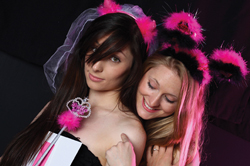 The modern day hen party and the male equivalent, the stag do, is a rite of passage and there's a host of experiences available to give you a night to remember.
Pre-wedding celebrations rake in around £300m every year in the UK with men spending twice as much as women.
According to the Office for National Statistics we are marrying later, aged 36 on average for men and 33 for woman, meaning the customary dos are becoming more elaborate.
"They are a lifestyle choice now and an appealing and inclusive tradition to mark the forthcoming nuptials with an enjoyable send off," said Simon Denning Managing Director of UK based party planner StagWeb & GoHen.