Nestled in the heart of Clogher Valley where style and elegance meets country hospitality, this idyllic 17th Century House offers a haven of tranquillity. A warm welcome awaits you at
Corick House Hotel
, a charming hotel set among meandering streams and winding country roads. We offer guests the finest tradition, Irish hospitality, superb cuisine and lavish surroundings in a 3* award winning hotel, which brings you back in time with period style and breathtaking views of the valleys and mountains.
Renowned for being one of Northern Irelands premiere Wedding Venues, and winners of Getting Married in Northern Ireland Venue of the Year 2011 & 2012, the romantic setting of Corick House Hotel is the perfect location to create lasting memories for a lifetime together.
A walled entrance and wrought iron gates announce your arrival to the Hotel, leading guests up the drive lined with 300 year old beech trees to the main entrance. With our policy of One Wedding per day you can be assured you will be the centre of attention, arriving on the red carpet to start your celebration in style with a glass of champagne, as guests are treated to tea, coffee and homemade shortbread in the conservatory.
The elegance of our mahogany staircase, period library and original fireplaces will provide the perfect backdrop for any photograph. Alternatively the Victorian walled garden, manicured lawns, fountain and terrace are the ideal location for photographs and champagne receptions. All areas lend themselves to the air of romance, setting the stage for a truly elegant and stylish wedding. No matter how grand or intimate your special day is, our highly professional standards will ensure your wedding reception will be inspirational.
We have a range of packages available and we can tailor make packages designed to meet your needs. Your Wedding is a very special occasion and one of the most exciting and important days in your life and we would be honoured to welcome you.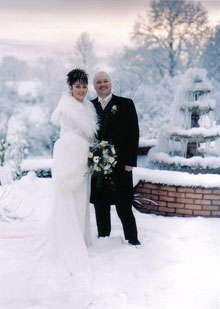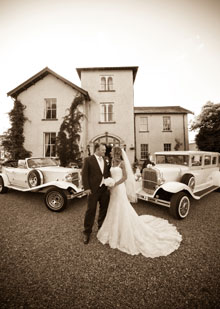 Civil Ceremonies
Corick House Hotel have a variety of suites available to cater for your wedding ceremony, from our secluded Library Room which accommodates intimate celebrations for up to 20 guests, to seating 200 guests in our elegant Garden Room and 350 guests in our stunning new Orchid Suite. The advantage of having your civil ceremony in Corick House Hotel is the professional dedicated time and attention devoted to you and your wedding day. From the planning stages right through to the big day we will ensure that you get the highest level of personal service. No request too big and no concern too small.
Reception Suites
The Garden Suite provides an excellent venue for a smaller wedding reception with a choice of seating arrangements for 80-130 guests. Its architectural design compliments to perfection the historic surrounds and the magnificent gardens of Corick House Hotel. From the elegant interior with ornate ceilings and magnificent chandeliers.
The Orchid Suite offers spectacular views across the Clogher Valley and its historic cathedral village of Clogher and caters for 150-400 guests. Intricate subtle lighting, magnificent bell chandeliers, a purpose built stage and air conditioning together with our professional attentive service, ensures satisfaction.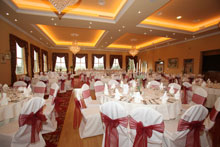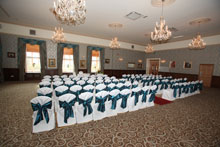 Finishing Touches
At Corick House Hotel we endeavour to ensure your every wish is granted and that the bride and groom have as little running as possible to do. We will take every stress out of your big day that we can, from chair covers and sashes, to a sweetie cart we have it all, and if we canít supply it we will point you in the direction of someone who can. Just ask and we will see what we can do.
Accommodation
At the end of an exciting day, your guests can relax and enjoy the comfort of our lounge areas, retiring to bed in their own time. Corick House Hotel boasts 43 bedrooms and luxurious suites, nine of which are situated in the original Georgian house and decorated in period style, just as one would expect from a fine country house. The remainder of the rooms and suites are located in the new wing of the hotel and offer modern design and comfort. All 43 spacious guest rooms and suites have been designed and decorated to an exceptional standard, giving a classically luxurious edge, with stunning views of the gardens, valleys and local countryside. Our rooms are fully equipped to ensure your maximum comfort.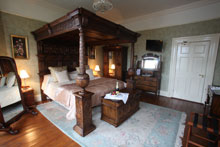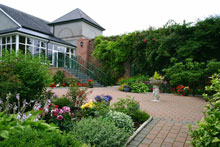 Contact us on
+44 (0)28 8554 8216
or visit our
website
for more information.