Bracken Studios
Bracken Studios, is one of Northern Ireland's top one stop shops for special occasions. From accessories and extras to services such as photography – Bracken Studios has everything you will need for weddings, birthdays or indeed any special occasion or event.
The team at Bracken Studios has years of experience – whether it's balloons, room dressing accessories for your event or if you are simply after some advice on what can make your event that extra bit special – Bracken Studios can help you to put the final touches to your plan, ensuring that your event is one to remember.
A joint venture for husband and wife team Declan and Karen Foy, the team at Bracken Studios have twenty years experience in the wedding and portrait photography business – and whether its handmade stationery, photography, favours or supplying table/room party ware - Bracken Studios can make any event – from a Wedding to a Birthday – a special one.
The team moved to new premises almost two years ago and can be found at Woodhouse Street in Portadown, only 30 minutes from Belfast city centre. A full weddings and events shop where customers can browse and get some advice on the best way to plan for an event to remember.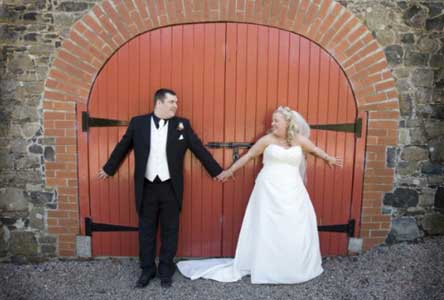 Meet the team
Declan Foy - Declan has been a wedding and portrait photographer for 20 years and was one of the first photographers in Co. Armagh to become a member of the Society of Wedding and Portrait Photographers, one of the United Kingdom's most prestigious associations for professional wedding and portrait photographers.
Declan has extended his work over the past 10 years due to demand from customers for school portraits, formal photos and pets.He has also undertaken commercial commissions from businesses throughout Ireland.
Karen Foy - Karen has been the creative force behind many weddings, formals, hen nights and other special occasions for many years. A talented dressmaker and former adult education tutor, Karen specialises in extra touches and accessories that can make all the difference to any event. From handmade stationery and favours, to creating that perfect colour scheme – Karen can help you to make your event for any seasonal occasion especially memorable.
Balloons, Stationery, Card Crafts, Partyware
Seasonal
Baby Events
Religious
Birthday
Graduation
Engagement
Hen / Stag Night
Wedding
Anniversary
Candles/Cannons

Favours
Confectionery
Balloons/Accessories
Envelopes/Seals
Card Layers
Captions
Card/Paper/Inserts/cards
Craft Embellishments
Craft Ribbon