At Bellini's we pride ourselves in offering all of our customers a friendly, efficient and professional service, where one can experience Irish Hospitality at its best, and a quality of food which is second to none. Bellini's opened its doors in December 2005 and has since established itself as one of the leading wedding venues in the area. We have proved to be a very popular choice, which has enabled us to fully develop ours skills and professionalism. Facilitating only one wedding each day allows our experienced Banqueting Team to give the ultimate in personal service and attention.
If you are looking for a 5 Star Wedding - Newry's finest wedding venue Bellini's is the place to book. We can cater for up to 450 guests in the luxurious Renaissance Suite, and also for more intimate gatherings held in the elegant Bellagio Suite.
Now fully licensed for Civil Ceremonies [and civil partnerships] we can take of your every need all under one roof.
Our enchanting wedding packages have been carefully tailored to give you the best choice for your wedding day, with versatile options offering you the flexibility to create your own menu. The day is yours, so the choice is yours.
From the moment you arrive your party will experience the full warmth of our hospitality so you can relax and enjoy your day with your family and friends. Whatever way you decide to shape the wedding day of your dreams, rest assured that we will do everything possible to provide you with a magical occasion.
With a top quality team of chefs, famous for a truly rewarding and yet traditional menu, Bellini's Rialto Restaurant is renowned for being The Home of Great Food.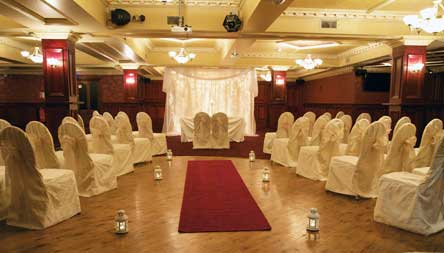 Maybe you have something special to celebrate, like a birthday or family celebration? Bellini's is the perfect setting. You choose the menu and we take care of the rest, so that you can relax and enjoy your special evening.
Whatever the occasion, let us take care of it!
Call into Bellini's Bar and you are entering modern luxury with a twist of tradition, whether you visit for a quiet drink, a hen or stag party, or to cheer on your favourite sporting team.
Be you thirsty, hungry or just in need of a bit of craic, let Bellini's Bar become your local. There is something here for every appetite, with high quality bar tending, excellent food and a friendly welcome at all times.
At night Bellini's Live Lounge is the central theme with live bands to be enjoyed Thursday night through to Sunday night. Welcome to one of Northern Ireland's top live music venues.