The Fairways Restaurant @Warrenpoint Golf Club
Here at the Fairways Restaurant we cater for all events, ''no party is too big or too small.'' Our Chefs have prepared menus for your perusal with prices starting from £6.95 per person.
There are two rooms available, offering a wide range of choice, whether for the small reception for family and close friends or a larger, more formal gathering.
The function room holds up to 50 seated or 80 for a reception.
The Club Restaurant will hold up to 180 seated or 250 for a reception.
Please do not hesitate to speak to our staff when viewing the club house as they are extremely experienced and have a wealth of advice and information that will be very useful to you. Full Terms and Conditions are shown on the booking form.
Sample Sunday lunch menu served from 12.30-3.30
Children's menu also available.
Starters
Pan seared fillet of sea-bream (wild rocket, sun blushed tomatoes, shaved parmesan & paprika oil dressing)
Garlic stuffed mushrooms (young salad leaves, garlic mayo & aged balsamic glaze)
Seafood chowder (local caught seafood & shellfish cooked in a rich creamy fish veloute)
5 spiced duck spring roll (hoisin & sweet chill dressing)
Oak smoked salmon & pink prawn parcels (with a rustic Spanish salad, and a lemon oil dressing)
Mains
Roast turkey and honey baked ham (with a sage and onion stuffing)
Prime roast sirloin of beef (served with a fluffy Yorkshire pudding and pan gravy)
Roast stuffed loin of pork (herb, apple and black pudding stuffing & served with a cider jus)
Oven baked fillet of cod (with a spicy Moroccan cous cous, fennel and tomato butter)
Tagliatelle carbonara (with crusty garlic and herb bread)
Selection of desserts- & tea or coffee…£16.95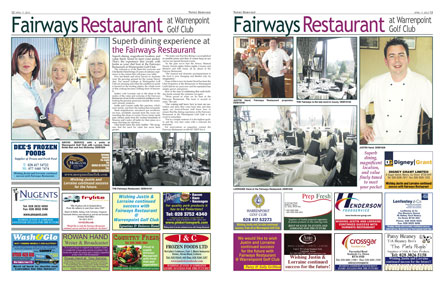 Seating
- Our round tables are designed for 8 but will seat up to 10 and white linen napkins and white tablecloths are our standard.
Flowers - Flowers are a very personal choice so we ask you to make your own arrangements but we can of course provide you with our recommended florist.
Cake Stand
- We can provide a cake knife, silver cake stand and table.
Menu Tasting
- You are more than welcome to book a table in our restaurant which will give you a good indication of the quality and presentation of food offered.
Corkage
- You are not able to bring your own wine as we offer a comprehensive and competitive wine list. If there is a particular wine that is not shown, that you would like, we can usually supply this for you.
Access Time
- You can usually have access to the room for personal decoration from 10.30 on the day of the function if the room is not in use.
BANQUETING SAMPLE MENU
£24.95 per person
Please select one choice from each course for all of your guests.
This menu will be followed by Coffee and Mints.