Izabela Nails
My salon offers the most crazy nails in Belfast. If you want something different on your nails come in and try, we have over 400 glitters!
We offer beautiful Acrylic and Gel nails, crazy pointy nails, acrylic flowers and many more designs on your nails.
Natural Extensions - £30
French Extensions - £35
Glitter, Colour Extensions from - £37
Infills From - £20
Nail Art, Acrylic flowers from - £3
Pointy nails from - £65

Everlasting manicure - £25
Gel on Toes......
French - £20
Glitter/Colour - £25
Spray Tan - £15
Individual Eyelashes - £15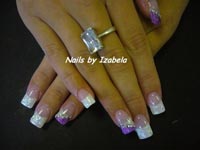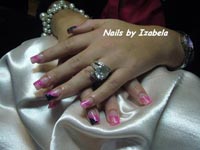 Opening Hours:
Mon-Fri - 10am-5pm
Tue - Closed
Wed & Thur - 10am-7.30pm
Fri - 9am-5pm
Sat - 9am-3pm
La Bella Beauty
Located in city centre Belfast, our beauty salon is the perfect destination for relaxation.  Enjoy one of our pampering treatments or treat yourself to our ultimate half day package.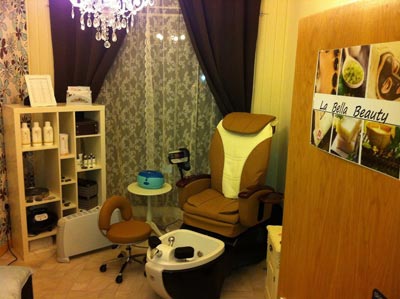 Get ready for weekend - package
Bridal Package
Formal Package
Teen Package
Yummy mummies package
We'd be happy to customise a package for you or your group.
Skin Care - Dermalogica - Our treatments are 100% customised to your skin's needs with a thorough, zone by zone face mapping skin analysis, making it one treatment that's different every time!
Diamond Microdermabrasion - Microdermabrsion is offered by professionals and can be a fast remedy for many kinds of skin conditions from sun damaged skin, cellulite, stretch marks, textured skin, acne, spots and many other types of skin conditions.  Whether you're concerned about fine lines and wrinkles or have more youthful skin problems such as acne, this is a treatment that can help.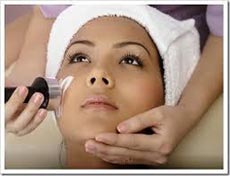 Other Treatments:
Deluxe Spa Manicure
Mini Manicure
Deluxe Spa Pedicure
Gellaco 14 days nail polish -
Nails - £25 or Toes - £20
Deep tissue back massage

Swedish back massage
Hot stone back massage
Full body aromatherapy massage
Full body hot stone massage
The Ultimate freestyle massage
Gift Vouchers and group rates available.

Opening Hours:
Mon & Tue - 10am-6pm
Wed & Thur - 11am-8pm
Fri - 9am-5pm
Sat - 9am-3pm