Andrew Mulvenna Hair Spa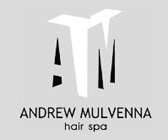 In the heart of Belfast's City Centre Andrew Mulvenna Hair and Beauty Spa boasts Premium Salon Services with a welcoming and friendly atmosphere.
Our expertly trained hand-picked Bridal Team Members will ensure you are top-toe perfect on your big day. We also offer an at-home service for more information on this please contact the salon.

More Hair and Beauty Salons in Northern Ireland near Andrew Mulvenna Hair Spa
Kurl Up N Dye

| | |
| --- | --- |
| | At Kurl Up N Dye we endeavour to provide the very best quality hair cuts. Colouring, straightening and creative up styles are our trade mark, alongside the very best customer service. We aim for you to love your hair and love coming to our salon. |

---

The Beauty Company
2-12 Montgomery Street, Belfast
Alex Mekki
27 Chichester St, BELFAST
Globe
52 Upper Arthur Street, Belfast
Peter Mark
26 Arthur Street, BELFAST
Regis Europe
36-40 Victoria Square, Belfast
ByClaire – Wedding Hair Specialist
Belfast
DaniBelle Design - Wedding Hair Mobile
Belfast
Julie Davidson Make-Up Artist
BELFAST
Wigs NI
BELFAST
Crabtree & Evelyn
Unit M2, 17 Arthur Square, Belfast
Blue
13 Clarence St, BELFAST
Toni & Guy
6 Donegall Square North, BELFAST
Radiance
4-6 Church Lane, Belfast
Laserway Cosmetic Laser Clinic
7 Little Victoria Street, BELFAST
Hair Apartment
14 College Street, BT1 6BT
The Fountain Of Beauty
The Fountain of Beauty, Fountain Centre, Belfast
The Lulu Lounge
4B Fountain Centre, Belfast
Essential Hairdressing
18 Queen Street, Belfast
Cityhair Extensions
Unit 4, Belfast
Peter Mark
42-44 Great Victoria St, BELFAST
Savannah Sun & Beauty
92 Castle Street, Belfast
Absolute Beauty
62 Berry Street, Belfast
Nails Inc
Unit 34/Castle Court, Belfast
Supercuts
Unit 6A/Castle Court, Belfast
Paul Stafford Hairdressing
Second Floor, Belfast
Europa Hairdressing & Beauty Salon Ltd
Great Victoria Street, BELFAST
Bill Harris Hairdressing
52 Hill Street, Belfast
Michael Quinn Hairdressing
143 Royal Avenue, Belfast
Salon Skincare
130 Great Victoria Street, Belfast
Izabela Nails & La Bella Beauty
Frames Complex, Belfast
More Hair and Beauty Salons in the United Kingdom
More Hair and Beauty Salons in Ireland
More wedding companies in Belfast
More Hair and Beauty Salons in Belfast
0.15625 18.205.26.39 companylisting Ban:1, But:3 11/12/2023
Hairdresser of the Year Belfast, Bridal Hair Belfast, Wig Belfast, Specialist Colourist Belfast, Specialist Cutting Belfast, Top UK hairdresser Belfast, Top Irish hairdresser Belfast, Photographic Wor
"Hairdresser of the Year Belfast, Bridal Hair Belfast, Wig Belfast, Specialist Colourist Belfast, Specialist Cutting Belfast, Top UK hairdresser Belfast, Top Irish hairdresser Belfast, Photographic Wo