Wedding Feature
Plan A Marquee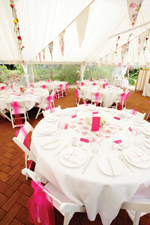 Marquees give your wedding a unique atmosphere. They instantly create an air of expectation, as they are a setting away from everyday life.
They are positioned specially in that area, to mark your wondrous occasion. They look sensational when erected in the right way, by a reputable company. However do it wrong and your wedding will end up looking like the dodgy summer camps of your childhood, where you hid morning, noon and night in your sleeping bag, to escape the drips of rain that are weaving their way ever closer to your forehead. In short - miserable.
There are a few golden rules which, if followed, will have you well on your way to success.
You will need to check the site you plan to use is able to host a marquee on the grounds. With the exception of those hosting the wedding on family grounds.
Arrange a visit and check if the ground suggested is a flat, grass area. If not, you may need to hire a frame marquee with a suspended floor. Suspended floors cannot be fitted to all types of marquees. It is best to have a clear idea of your requirements from the start.
Check that the marquee is the right size to accommodate your guests, eating area, caterers, dance floor, and entertainment. Whilst people queuing outside may make your wedding look like an exceedingly popular event, shivering guests will be most unimpressed and it will ruin the atmosphere.
Ask about the hire of a generator, the requirement for electricity goes without question. Make sure that you have a generator that will more than comfortably supply the required amount of electric to your appliances. Remember that you need to include the equipment for the caterers and entertainment, when making your estimation. Should you be using a room decoration company, it is a good idea to ask which of the items they will use require a power source. All of these companies should be able to get in contact with your marquee supplier and vise versa. They may have questions that you will be unable to answer and it makes life easier for everyone if they are able to correspond. It is also a good idea to get the telephone number of the electricians that will be on site to erect the marquee. It will make it a lot easier to contact someone in a timely fashion should any unforeseen circumstances arise.
Do not be tempted to cut corners and avoid the hire of bathroom facilities. Even if you plan to situate your marquee in close proximity to a house, one bathroom is not sufficient for 100 guests. Things have come a long way from the portable toilets of yesteryear. Luxury facilities are now available so speak with your hire company. If they do not supply these they are often able to provide details of those that do.
Regardless of the time of year you plan to wed, heating is an essential element. Your hire company should be able to provide you with options, or at the very least if they do not offer this service, point you in the direction of another reputable company.
You may also need to hire a floor. Some companies include this in the price, however this should not be taken for granted. A raised stage for your entertainment should be discussed at this time. You may feel that this is an unnecessary item. This falls to your own discretion and budget. If you plan to hire a dance floor, remember to discuss this with your room dressing company, should you have one, to compare quotes.
You may also need to hire chairs, tables, crockery and cutlery for your meal. Your caterer should be able to help with this, but remember to allow a little room in the budget for these necessities.
Once you have discussed your needs with your hire company and are happy with the initial budget allocation, arrange a visit to site with them. Give them time to get a feel for the location and your needs. After this visit they will be able to supply you with a more informed quote. You should be aware that this is likely to be a formal quotation from the company, once received and confirmed in writing it is legally binding. Make sure that you take the time to read it carefully, ensure that all details and requirements are correct, check the terms and conditions regarding deposit, cancellation charges, order flexibility and ask what happens if for some unforeseen reason they are unable to provide you with the services promised. After that you can rest assured that you have ensured your wedding has the stamp of your creativity.
(GK)
---
Wedding Features
Perfect Weddings Abroad
Unveil A Better You At The Altar
Secure Your Dream Venue
Advice For Mother Of Bride/Groom
Gorgeous Goodies For Your Big Day
Wedding Catering For Foodies
Marvin Humes And Rochelle Wisemen Wedding Venue Revealed
Facebook Wedding Boost For The Little White Dress Shop
Perrie Edwards Is Happy With 1D's Zayn Malik
New Chapter For Aldenham Park
Diamond Couples Celebrate At Jubilee Party
Black Eyed Peas Hit Tops Wedding Playlists
Secret To Happy Marriage Revealed
Petra Ecclestone Shares Wedding Snap
Golf Champ Darren Clarke Marries His Birdie
Lovers 'No Good' At Spotting Others In Love
Ben & Jerry's Say 'I do' To Same Sex Marriage
Men Embrace Man-Gagement Rings
Team GB Hopeful Leaps Over Blushing Brides
Royal Wedding William And Catherine Barbies Announced
Wedding News
Robin Tunney has welcomed her second child into the world.
Avril Lavigne has struck up a relationship with Pete Jonas.
DJ Khaled has named his newborn son Alam.
Jenna Dewan is considering having a third child while awaiting the arrival of her second.
Single parenthood is a constant struggle to find balance, according to Irina Shayk.
Gorka Marquez and Gemma Atkinson are in no rush to tie the knot.
While Jenny Mollen would love to have another child with her husband Jason Biggs, the actress doesn't think she could endure another pregnancy.
Haylie Duff has told of how she constantly struggles with mum guilt.
Justin Bieber is enjoying married life with his wife Hailey Bieber and admits he has always wanted to start a family.
Michelle Keegan is enjoying a romantic holiday with her husband Mark Wright.