Wedding Feature
Lovey Dovey Weddings Fly High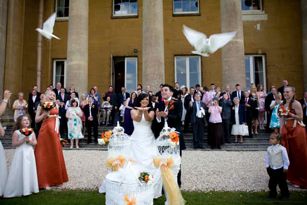 Dove expert Lovey Dovey UK reveals how you can indulge in the ultimate symbol of love, peace and fidelity.
Rod and Lynne Morgan founded Lovey Dovey in May 2007. They were the first legitimate white dove release company to set up in Wales and have provided doves for over 600 ceremonies.
How did you get into the wedding industry?
My husband has kept homing pigeons for over 25 years, and he is absolutely fantastic with them. I always wished there was something we could do that would involve his pigeons, and we stumbled across a site (Calgary Doves in Canada) from where we got the idea.
I have been in sales and marketing all my working life, and am passionate about customer care. So between the two of us, I knew we would make a great business team.
We did our first three weddings free of charge to gain a little experience, and get some picturs for our website. It was also to see that we could fit in at a wedding, we loved it, and it started from there.
What is the advantage of using doves for a wedding ceremony?
The doves are always given a lot of attention from the guests - especially the children. They look very pretty in their cages so make a great entrance feature at any Church or wedding venue. But it is what they symbolise that makes the difference, and the main reason people want them at their wedding.
The beautiful doves and their meaning together, will ensure the guests remember your wedding as they continue to talk about your dove for years to come. The images are also beautiful for your wedding album.
What kind of training is involved with the doves?
The training starts when the babies leave the nest. They learn to feed themselves, and to fly up onto perches. Once they can all easily reach the top perch, we open the lofts up for them to fly out.
When the time is right, we then split them into four teams to start their training North, South, East and West. We keep training them in one direction, as we think it makes it easier for them to navigate their way home. They will not actually do a wedding until they are about six to seven months old.
Can you tell us about your favourite wedding ceremony featuring the doves?
It would take me a long time to write about 600 plus weddings - they are all equally lovely.
However we do love doing 'the surprise' weddings, where usually the bride does not know anything about the doves until the ceremony is over. We always take a camera and focus our attention on the brides face when she sees the birds - we have had many tears of joy at this, and you cant help but get emotional.
Any dove-related wedding drama?
We attended a wedding at a church last year, and when we turned up the church was covered in scaffolding.
We would have had to do the release outside the front of the church and the photos would not have been their best with this in the background, so we waited until the bride arrived, and then went off to the reception venue. Time was important as we do not allow the doves in their cages from longer than one and half hours, but they made it in good time, and the photos were fabulous.
Any other details you feel are important?
It is essential that couples look for a reputable supplier that is registered and insured. We have encountered all sorts of horror stories where the couples have bought a pair of doves for the day, and as they are not trained to return home, have nowhere to go so are left to fend for themselves.
This can be very cruel and we would strongly advise, for the sake of the birds that this method of DIY is avoided.
Also going to a local pigeon flyer can be another disaster. They may have well cared for birds, but will probably turn up with a pigeon basket, and will not have the experience to liaise with photographers etc, so the experience will not be the same.
Visit
http://loveydoveyuk.com
to find out more about.
* Image courtesy of Ruth Garner Photography
(GK/BMcC)
---
Wedding Features
Perfect Weddings Abroad
Unveil A Better You At The Altar
Secure Your Dream Venue
Advice For Mother Of Bride/Groom
Gorgeous Goodies For Your Big Day
Wedding Catering For Foodies
Marvin Humes And Rochelle Wisemen Wedding Venue Revealed
Facebook Wedding Boost For The Little White Dress Shop
Perrie Edwards Is Happy With 1D's Zayn Malik
New Chapter For Aldenham Park
Diamond Couples Celebrate At Jubilee Party
Black Eyed Peas Hit Tops Wedding Playlists
Secret To Happy Marriage Revealed
Petra Ecclestone Shares Wedding Snap
Golf Champ Darren Clarke Marries His Birdie
Lovers 'No Good' At Spotting Others In Love
Ben & Jerry's Say 'I do' To Same Sex Marriage
Men Embrace Man-Gagement Rings
Team GB Hopeful Leaps Over Blushing Brides
Royal Wedding William And Catherine Barbies Announced
Wedding News
LeToya Luckett-Walker is expecting her second child.
Charlotte Crosby has found a new romance in the wake of her split from Ryan Gallagher.
Lydia Bright has given a brutally honest interview about giving birth to her baby daughter Loretta.
Lana Del Ray has split up with her police officer boyfriend.
Actress and businesswoman Angelica Ross was left stunned this week when a simple Twitter post led to the discovery that her boyfriend has a fiancée and a child.
Ashley Graham has told of how she found breastfeeding "really difficult".
Susanna Reid is determined to celebrate her mum this Mother's Day despite being in self-isolation.
Actor and producer Lin-Manuel Miranda is learning how to homeschool now that his family are self-isolating.
Kristen Bell is bursting with pride for her two young daughters after they donated to charity.
The Duke and Duchess of Cambridge's children Prince George and Princess Charlotte will now be homeschooled as schools close across the UK.