Wedding Feature
Bride DJs At Her Own Wedding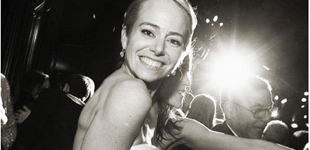 For all the couples who got engaged over the holidays, the wedding countdown has begun and if you're getting married this year, you'll want to give extra thought to the DJ you hire.
According to the most recent Wedding Entertainment Report, an overwhelming 80 percent of wedding guests say the element they remember most about a wedding is the music.
One of the hottest trends in weddings today is spinning, and we're not talking about grooving on the dance floor or indoor cycling. Today, couples are hiring top DJs, not just to work their wedding, but to show them how to do some mixing and blending of their own.
Chalk it up to the fact that the music-savvy iPod generation is now getting married or the popularity of the television show Glee or the growing celebrity culture of DJs. Whatever the reason, today's weddings have become definite DJ performance zones.
Michelle Eckert, 33, from Los Angeles, was married last October at the L'Auberge Del Mar in Del Mar, California, and the music was top on her list.
"We wanted our wedding to have the vibe of a real club. What better way to enhance the club style than by offering guests the services of a marquee-level DJ and taking our own turn behind the turntable?" said Michelle. "DJ Mylar from Scratch Weddings fit our vibe completely and, with his help, and a few classes at the Scratch DJ Academy in Los Angeles, our vision for our reception was transformed into a perfect reality."
"I was excited to take a few classes with Michelle at the Scratch DJ Academy so we could perform our own personal mix-up at our wedding for our friends and families," said Michelle's husband, Seth, 34, a medical device representative.
"We loved working with Hapa [Director of the Scratch Academy in Los Angeles], who taught us the basics of working a turntable and scratching into a song. Then we picked the songs we wanted to scratch to at our wedding and practiced and practiced leading up to the big day. I scratched to Vanilla Ice's 'Ice, Ice Baby' and Michelle scratched to 'One More Time' by Daft Punk. It was a huge hit."
Rob Principe, the founder and CEO of Scratch Music Group, reports that his wedding business has grown significantly over the last six months.
"Couples getting married today are very savvy about music. They want more from their wedding entertainers, expect more and deserve more."
The spin-at-your-own wedding trend isn't all that surprising when you consider that the WeddingChannel.com, says the key to a successful wedding is surprising your guests with unexpected entertainment.
"At our wedding, we amused our guests with a signature cocktail called the Quintinni that was named after our puppy, Quinn," says Michelle. "But we surprised our guests by spinning. So many people told us later that it was a real 'Michelle-and-Seth moment' that they'll never forget. In my opinion, that's what great wedding memories are all about."
(GK)
---
Wedding Features
Perfect Weddings Abroad
Unveil A Better You At The Altar
Secure Your Dream Venue
Advice For Mother Of Bride/Groom
Gorgeous Goodies For Your Big Day
Wedding Catering For Foodies
Marvin Humes And Rochelle Wisemen Wedding Venue Revealed
Facebook Wedding Boost For The Little White Dress Shop
Perrie Edwards Is Happy With 1D's Zayn Malik
New Chapter For Aldenham Park
Diamond Couples Celebrate At Jubilee Party
Black Eyed Peas Hit Tops Wedding Playlists
Secret To Happy Marriage Revealed
Petra Ecclestone Shares Wedding Snap
Golf Champ Darren Clarke Marries His Birdie
Lovers 'No Good' At Spotting Others In Love
Ben & Jerry's Say 'I do' To Same Sex Marriage
Men Embrace Man-Gagement Rings
Team GB Hopeful Leaps Over Blushing Brides
Royal Wedding William And Catherine Barbies Announced
Wedding News
Global superstar Beyonce has opened up about the health issues she faced during her pregnancies and births.
Despite recently claiming he was planning future projects around his desire to start a family, Nick Jonas has said he is in no rush to have children with his wife Priyanka Chopra.
Lauren Jauregui and Ty Dolla have reportedly split according to cryptic posts they both shared on social media.
Anna Faris has admitted that she experiences a lot of guilt as a mother and finds it difficult bringing up a son while living in the public eye.
Emma Roberts and her rumoured boyfriend Garrett Hedlund are said to be just enjoying their time together and not embarking on anything serious.
Dina Lohan has rekindled her romance with businessman Jesse Nadler after a brief split.
Cheryl Cole has opened up about motherhood and life as a co-parent with Liam Payne following their split last year.
Hoda Kotb has announced that she's adopted a second baby girl.
Ronda Rousey has hinted to fans that she's taking a break from professional wrestling in the hopes of starting a family with her husband Travis Browne.
Alex Rodriguez has confessed that his proposal to Jennifer Lopez took him six months to plan.