Wedding Feature
Wedding Catering For Foodies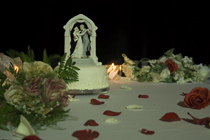 Wedding food should be inspiring. Your catering choice will be one of the things guest remember so make it count.
Food can take up a whopping 45% of your wedding budget. You can choose from a buffet meal, food stations, sit down dinner and/or cocktail reception.
If you have found a caterer you like do some research. Ask for references, read testimonials, and review the website.
How were their culinary skills put to use at other weddings? Look at pictures of presentation. Visit the caterer to ensure the premises are clean and tidy.
Organise a tasting session and meet the chef. Most companies will arrange for the bride and groom to sample the wedding menu privately giving you an indication of the quality of the food and the dining experience.
Opt for the freshest seasonal ingredients that are sourced locally where possible.
Be aware of guest's dietary requirements such as cultural and religious food restrictions, vegetarian food, allergy sufferers, children and those requiring healthy options.
Caterers may include the hire of dinnerware in their price. You should ensure it matches your wedding décor and theme. Ask to see samples of tableware, glassware and crockery and inspect for chips, scratches and wear. Find out if table decorations are included.
Determine how your food will be served on your big day. Ideally there will be one server per ten guests.
Caterers may ask for guaranteed numbers such as a minimum of 100 guests. If you do not have 100 guests they may charge you a fee
When giving a caterer the final headcount include a meal for your entertainer, photographer and wedding planner.
Ask your caterer to prepare a "leftover basket" there will be lots of delicious leftovers that the bride and groom can continue to enjoy after the big day. Many will not get a chance to eat and enjoy all of the wonderful food at the reception.
(GK)
---
Wedding Features
Perfect Weddings Abroad
Unveil A Better You At The Altar
Secure Your Dream Venue
Advice For Mother Of Bride/Groom
Gorgeous Goodies For Your Big Day
Wedding Catering For Foodies
Marvin Humes And Rochelle Wisemen Wedding Venue Revealed
Facebook Wedding Boost For The Little White Dress Shop
Perrie Edwards Is Happy With 1D's Zayn Malik
New Chapter For Aldenham Park
Diamond Couples Celebrate At Jubilee Party
Black Eyed Peas Hit Tops Wedding Playlists
Secret To Happy Marriage Revealed
Petra Ecclestone Shares Wedding Snap
Golf Champ Darren Clarke Marries His Birdie
Lovers 'No Good' At Spotting Others In Love
Ben & Jerry's Say 'I do' To Same Sex Marriage
Men Embrace Man-Gagement Rings
Team GB Hopeful Leaps Over Blushing Brides
Royal Wedding William And Catherine Barbies Announced
Wedding News
Alexandra Burke is yet to set a date for her nuptials to Joshua Ginnelly as she is "too busy with work" to focus on planning the big day.
American singer Halsey has revealed that she can't wait to have a child of her own, especially as many of her friends have young children.
Tom Arnold has split from his wife Ashley Groussman after 11 years together and almost a decade of marriage.
Adriana Lima's relationship with Metin Hara has come to an end.
Former American Idol star Lauren Alaina has called off her engagement to long-term boyfriend Alex Hopkins.
Khloe Kardashian's nine-month-old daughter True makes her feel like she can do anything, the reality star has revealed.
Russell Brand has opened up about his marriage to Laura Gallacher and discussed what keeps him faithful.
Joe Wicks has urged Prince Harry not to pay any attention to parenting advice when his wife Meghan Markle gives birth to their first child in April, but then offered some tips of his own.
A new UK network, 'Pride In Music', has been established as a way of championing everyone from young talent to established stars.
Anne Hathaway has quit drinking for the next 18 years, because she doesn't want to do it around her son Jonathan.