UK Wedding News
7/2/2014
Katie Piper Bonding With Her Daughter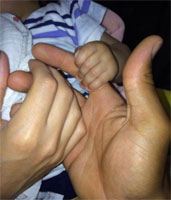 Katie Piper has confessed it took her a while to bond with her baby daughter Belle.
The 30-year-old, who welcomed her first child earlier this year, made the comments in an interview with Mother & Baby.
She openly spoke of how having a child has changed her life for the better, but explained: "I felt the mum/baby bond would be there straightaway but that's not always the case.
"When James [her partner] went back to work, I was like 'Oh, it's just me and you – what do I do?'
"It was quite overwhelming, but after those intense first few weeks, you get that lull and I think that's when you really develop the bond.
"And it's a closeness you've never experienced before… an unbreakable lovely feeling."
(JP/IT)
---
Top stories
20/03/2020
LeToya Luckett-Walker Is Pregnant
Charlotte Crosby Finds New Romance
Lydia Bright Gets Candid About Giving Birth
Lana Del Ray Splits From Boyfriend
Angelica Ross Learns Of Boyfriend's Secret Life
Ashley Graham's Breastfeeding Struggle
Susanna Reid's Mother's Day Plans
Lin-Manuel Miranda Homeschooling Kids
Kristen Bell Speaks Of Pride For Daughters
Prince George & Princess Charlotte Now Homeschooled