UK Wedding News
7/11/2014
51% Of Women Pack A Partner's Suitcase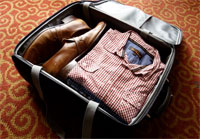 More than half of women pack their partner's suitcase before a holiday, a new survey has found.
The research, conducted by comparison website TravelSupermarket, discovered that 51% of women take responsibility for packing some, if not all, of their spouse's suitcase or travel bag. A further 7% admitted they even go as far as to choose which clothes their other half should wear on holiday – mainly because they're afraid they will be left embarrassed by their partner's wardrobe choices if they don't. However, 49% of women also admitted that they would never let their spouse near their own luggage.
When it comes to packing, the average time it takes is 81 minutes. Men are the quickest, taking an average of 76 minutes to fill their bags, while women take slightly longer at 85 minutes.
Despite being less efficient with time, 26% of women spend between one and two weeks planning the contents of their suitcase, while men take less than a week.
Bob Atkinson, travel expert at TravelSupermarket, said: "Packing well can save you both time and money if done well.
"Our research shows that, like booking the holiday, women also take the lead when it comes to packing the bags, often because they don't trust their male counterparts to pack suitable items.
"Being organised, knowing your luggage limits, being smart with toiletries and above all, being realistic with how much you really need to take away with you can save you a lot of stress – and help you avoid paying up to £75 a bag or up to £10 a kilo at the check-in desk – every time you travel."
(JP/IT)
---
Top stories
20/03/2020
LeToya Luckett-Walker Is Pregnant
Charlotte Crosby Finds New Romance
Lydia Bright Gets Candid About Giving Birth
Lana Del Ray Splits From Boyfriend
Angelica Ross Learns Of Boyfriend's Secret Life
Ashley Graham's Breastfeeding Struggle
Susanna Reid's Mother's Day Plans
Lin-Manuel Miranda Homeschooling Kids
Kristen Bell Speaks Of Pride For Daughters
Prince George & Princess Charlotte Now Homeschooled