UK Wedding News
7/28/2014
Three Arrested In Sham Marriage Raids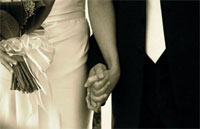 Three people have been arrested in connection with a sham marriage operation, it has been reported.
According to the Express and Star, officers from the Home Office's Criminal Investigations unit carried out dawn raids on addresses in Oldbury and Wolverhampton. Two men and a women were arrested and have been questioned on suspicion of conspiracy to facilitate a breach of UK immigration laws. The two men, aged 24 and 42, are said to be originally from Nigeria while the woman, 36, is from the Czech Republic.
All three are suspected of arranging and taking part in sham marriages, or using fake relationships with EU nationals in order to remain in the UK.
Commenting on the operation, Andy Radcliffe, from the Home Office's West Midlands Criminal Investigations Team, is quoted by the publication as saying: "The arrests are part of an ongoing investigation into a suspected sham marriage ring.
"Where there are suspicions that a relationship may not be genuine we will investigate and, if necessary, intervene to stop it happening. This investigation will now continue following the arrests we have made and the evidence we have seized."
(JP/CD)
---
Top stories
20/03/2020
LeToya Luckett-Walker Is Pregnant
Charlotte Crosby Finds New Romance
Lydia Bright Gets Candid About Giving Birth
Lana Del Ray Splits From Boyfriend
Angelica Ross Learns Of Boyfriend's Secret Life
Ashley Graham's Breastfeeding Struggle
Susanna Reid's Mother's Day Plans
Lin-Manuel Miranda Homeschooling Kids
Kristen Bell Speaks Of Pride For Daughters
Prince George & Princess Charlotte Now Homeschooled