UK Wedding News
7/29/2014
Kerry Katona Prepares For Wedding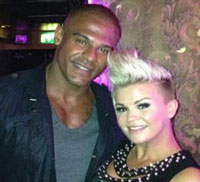 Kerry Katona has confirmed she is to marry her fiancé George Kay in September.
The mum-of-five revealed the news in a recent interview with OK! magazine.
Katona, 33, and Kay have been friends for a number of years but they only started dating in 2012. They announced their engagement last year and in April, the couple welcomed their first child together – and are already said to want to welcome another.
Speaking to the magazine, the Atomic Kitten singer confessed: "George wants another [baby] soon because he doesn't want to be an old dad. We both want them close in age so we'll have a cheeky try for number six on our honeymoon."
Discussing her upcoming wedding, which will take place in September, Katona said she would like to lost more weight for her big day. "I want to look amazing," she explained. "I was 11st 4lbs and I'm 9st 9lbs, so I've lost nearly two stone. I'd like to lose some more though. We work out together every day."
While this will be the first wedding for Kay, his partner has been married twice before – to former Westlife singer Brian McFadden and to cab driver Mark Croft. The relationships ended badly, but Katona says it hasn't put her off tying the knot again.
She commented: "I know that this time I'm marrying the right guy and I won't be doing it for the wrong reasons. I can't wait to be Mrs Kay.
"We've been together for two years but we feel like we've been together for ten. We've been through so much, but this time it's right."
Katona and Kay welcomed a daughter, Dylan Jorge, in April. While it Kay's first child, his partner is also a mum to Molly 12, and Lilly Sue, 11, from her first marriage to McFadden, and Heidi, seven, and five-year-old Maxwell from her second marriage to Croft.
(JP/CD)
---
Top stories
20/03/2020
LeToya Luckett-Walker Is Pregnant
Charlotte Crosby Finds New Romance
Lydia Bright Gets Candid About Giving Birth
Lana Del Ray Splits From Boyfriend
Angelica Ross Learns Of Boyfriend's Secret Life
Ashley Graham's Breastfeeding Struggle
Susanna Reid's Mother's Day Plans
Lin-Manuel Miranda Homeschooling Kids
Kristen Bell Speaks Of Pride For Daughters
Prince George & Princess Charlotte Now Homeschooled