UK Wedding News
12/4/2014
Jossa 'Gutted' Over Relationship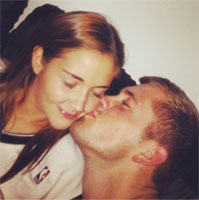 Jacqueline Jossa is reportedly "gutted" over the breakdown of her relationship to Dan Osborne.
It has been claimed the couple's romance came to an end recently after Osborne cryptically posted a message to social media.
Last month, he tweeted his followers: "Relationships just do not seem to work."
Osborne, 23, and 22-year-old Jossa started dating last year, but separated shortly afterwards when it was revealed the TOWIE star was expecting a child with his ex-girlfriend Megan Tomlin. Their son, Teddy, was born in December 2013, but the couple did not reunite.
A few months later, Osborne confirmed he was however once again dating Jossa, and in August, the pair announced they were expecting their first child together.
Osborne later admitted that his new relationship has been difficult for his ex, but it is now thought this also placed pressure on his relationship with Jossa as he tries to keep both women happy.
The EastEnders' actress has remained away from social media ever since her partner's tweet, but it is thought she has been left devastated over the split.
A source is quoted by Closer magazine as saying: "She's told friends she's sick of not knowing where she stands with him. One minute they're planning a new life together, then he sends a tweet like the one last week.
"Jacqueline is gutted they've had so much drama already. Her pregnancy should be the most amazing time of her life, but she feels emotionally worn out.
"She worries Dan just tells her what she wants to hear and doesn't know if he really loves her or if he's just honouring his responsibilities. But she's determined not to let it affect her excitement at becoming a mum."
(JP/IT)
---
Top stories
20/03/2020
LeToya Luckett-Walker Is Pregnant
Charlotte Crosby Finds New Romance
Lydia Bright Gets Candid About Giving Birth
Lana Del Ray Splits From Boyfriend
Angelica Ross Learns Of Boyfriend's Secret Life
Ashley Graham's Breastfeeding Struggle
Susanna Reid's Mother's Day Plans
Lin-Manuel Miranda Homeschooling Kids
Kristen Bell Speaks Of Pride For Daughters
Prince George & Princess Charlotte Now Homeschooled