UK Wedding News
11/10/2017
Runny Eggs 'Safe For Pregnant Women'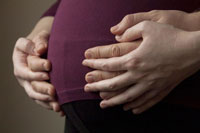 The Food Standards Agency (FSA) has announced a change to its advice about eating eggs.
The updated advice means that pregnant women, infants, children and elderly people can safely eat raw or lightly cooked eggs that are produced under the British Lion scheme.
It is understood the decision to change the advice was due to the findings from an expert group that was established to look at egg safety.
The group found that the presence of salmonella in UK eggs has been dramatically reduced by the British Lion Code of Practice. More than 90% of UK eggs are produced under this scheme.
The FSA did advise, however, that when eating raw or lightly cooked egg, people are recommended to store eggs safely in a cool dry place such as the fridge, follow good hygiene practices in the kitchen, and observe 'best before' dates.
Heather Hancock, Chairman of the Food Standards Agency, said: "It's good news that now even vulnerable groups can safely eat UK eggs without needing to hardboil them, so long as they bear the British Lion mark.
"The FSA has thoroughly reviewed the scientific evidence about the safety of these eggs, and we're confident that we can now change our advice to consumers.
"The major reduction in the risk of salmonella in Lion eggs is testament to the work carried out by egg producers. The measures they've taken, from vaccination of hens through to improving hygiene on farms and better transportation, have dramatically reduced salmonella levels in UK hens."
(JP/LM)
---
Top stories
22/06/2018
NZ Prime Minister Gives Birth To Baby Girl
Vogue Williams 'Confirms' Marriage To Spencer Matthews
Evan Spiegel: Becoming A Father Has Been "Life Transforming"
Ireland Tops List Of Countries For Highest Amount Of Smokers During Pregnancy
21/06/2018
Jack Osbourne Joins Dating App
Nikki Bella Is Already Thinking About Having Children
Professor Green Slams Ex-Wife Millie Mackintosh
Kate Wright Admits Being A Stepmum Can Be Challenging
Gemma Atkinson And Gorka Marquez Praise Each Other
Type Of Birth Affects Time And Day - Report