UK Wedding News
14/11/2017
Louise Redknapp Wants To 'Consciously Re-couple'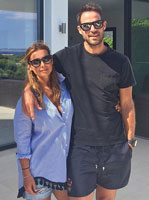 Louise Redknapp is reportedly looking to buy her own house, while also wanting to "consciously re-couple" with her husband Jamie.
Earlier this year, following months of speculation, the 42-year-old confirmed that the couple had separated from her husband of 19 years.
At the time, she said she needed the time apart to reevaluate their relationship. Her comments came after she appeared on BBC One show Strictly Come Dancing and discovered that she wanted to throw herself back into her work – having spent a majority of her marriage away from the limelight to look after the couple's two sons, Charley, 13, and eight-year-old Beau.
However, it was recently said that the singer was "rethinking" the decision to separate.
Now, Louise is said to be spending time at the family home in Surrey so the pair can look after their sons as well as continue with their work schedules, but she also wants a home in London to enjoy some space to herself.
A source is quoted by Heat magazine as saying: "Louise says that, with space, she hopes they can start talking about their future. She still loves Jamie and hopes to 'consciously re-couple', but, at the moment, is saying she wants her freedom and identity back.
"For now, she wants to split her time between their home in Surrey – so they can spend key times together as a family – and a place of her own in London."
(JP/MH)
---
Top stories
20/07/2018
Orlando Bloom Would Like More Children
Pixie Lott's Wedding Plans Are Getting 'Out Of Hand'
Karie Price Made Kieran Hayler Take Three Lie Detector Tests
Sharp Decline In Teen Pregnancy Rates - Report
Pierce Brosnan And Wife Celebrate 25 Years Together
Taking My Children On Tour Has Been 'Exhausting' - Pink
Justin Bieber And Hailey Balwin Would Like A Smaller Wedding
Miley Cyrus And Liam Hemsworth Are In A 'Great Place'
19/07/2018
Miley Cyrus And Liam Hemsworth Call Off Engagement
Police Called To Domestic Incident At Boris Becker's Home