UK Wedding News
17/11/2017
Rooney's Marriage Is Back On Track – Reports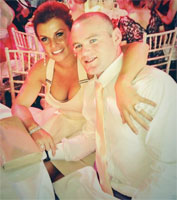 Wayne and Coleen Rooney's marriage is reportedly back on track.
According to MailOnline, the couple are still together after the footballer discussed his recent behaviour, and ensuring "no skeletons are left in the cupboard."
Earlier this year, the 32-year-old was arrested for drink driving. It was later revealed that he was driving a car belonging to Laura Simpson, a woman who he had met that night and who later alleged that the pair were planning to spend the night together while Wayne's wife Coleen was away on holiday.
Coleen, 31, was said to have been left "furious" by the situation and was said to be struggling to forgive her husband for his latest misdemeanour. However, sources are now claiming that the couple have worked through the problems and are now starting afresh.
A source is quoted by MailOnline as saying: "The marriage is definitely back on and Wayne and Coleen will be seen out together again soon and in the run up to Christmas.
"They are excited about their new child being born next year and they would like a girl. They would love to have a daughter.
"Wayne has been smiling again and is thankful Coleen has accepted him back. He has promised there are no more skeletons and that he will keep out of trouble in the future."
Coleen and Wayne married in June 2008 after six years of dating. They have three children together; sons Kai, Klay and Kit. The couple's fourth child is due early next year.
(JP/LM)
---
Top stories
20/07/2018
Orlando Bloom Would Like More Children
Pixie Lott's Wedding Plans Are Getting 'Out Of Hand'
Karie Price Made Kieran Hayler Take Three Lie Detector Tests
Sharp Decline In Teen Pregnancy Rates - Report
Pierce Brosnan And Wife Celebrate 25 Years Together
Taking My Children On Tour Has Been 'Exhausting' - Pink
Justin Bieber And Hailey Balwin Would Like A Smaller Wedding
Miley Cyrus And Liam Hemsworth Are In A 'Great Place'
19/07/2018
Miley Cyrus And Liam Hemsworth Call Off Engagement
Police Called To Domestic Incident At Boris Becker's Home