UK Wedding News
04/12/2017
Louise Redknapp Files For Divorce – Reports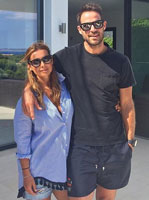 Louise Redknapp has reportedly filed for divorce from her husband Jamie.
Earlier this year, the singer confirmed that the couple were spending some time apart, but there are now numerous claims that they are to separate for good.
A source is quoted by The Sun newspaper as saying: "They have come to a mutual agreement that divorce is the only option. Louise has filed the paperwork and there's no going back.
"Louise tells everyone who will listen that Jamie didn't like her being back on stage, that he wanted her to be a wife and mum first. But he has told her he is stung by the accusation."
Louise, 43, and Jamie have been married for 19 years and have two sons together.
(JP/LM)
---
Top stories
20/07/2018
Orlando Bloom Would Like More Children
Pixie Lott's Wedding Plans Are Getting 'Out Of Hand'
Karie Price Made Kieran Hayler Take Three Lie Detector Tests
Sharp Decline In Teen Pregnancy Rates - Report
Pierce Brosnan And Wife Celebrate 25 Years Together
Taking My Children On Tour Has Been 'Exhausting' - Pink
Justin Bieber And Hailey Balwin Would Like A Smaller Wedding
Miley Cyrus And Liam Hemsworth Are In A 'Great Place'
19/07/2018
Miley Cyrus And Liam Hemsworth Call Off Engagement
Police Called To Domestic Incident At Boris Becker's Home