UK Wedding News
09/01/2018
Gwyneth Paltrow Confirms Engagement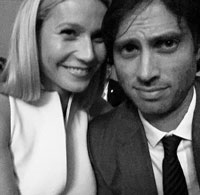 Gwyneth Paltrow has confirmed her engagement to Brad Falchuk.
The couple shared a statement to Good Morning America, announcing their happy news.
They said: "We feel incredibly lucky to have come together at this juncture in our lives when our collective successes and failures can serve as building blocks for a healthy and happy relationship."
It has also been claimed that they have been engaged for a year already.
Paltrow, 48, met the 45-year-old 'Glee' creator on the set of the television show in 2014, but they kept their relationship away from the spotlight until September 2015.
(JP/LM)
---
Top stories
20/07/2018
Orlando Bloom Would Like More Children
Pixie Lott's Wedding Plans Are Getting 'Out Of Hand'
Karie Price Made Kieran Hayler Take Three Lie Detector Tests
Sharp Decline In Teen Pregnancy Rates - Report
Pierce Brosnan And Wife Celebrate 25 Years Together
Taking My Children On Tour Has Been 'Exhausting' - Pink
Justin Bieber And Hailey Balwin Would Like A Smaller Wedding
Miley Cyrus And Liam Hemsworth Are In A 'Great Place'
19/07/2018
Miley Cyrus And Liam Hemsworth Call Off Engagement
Police Called To Domestic Incident At Boris Becker's Home