UK Wedding News
10/01/2018
Jodie Marsh Opens Up About Divorce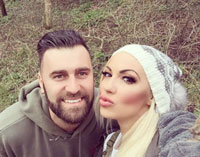 Jodie Marsh has opened up about her divorce once again, saying it is "the hardest thing" to ever go through.
The 39-year-old shared her thoughts on her blog, saying that she believes heartbreak is worse than the death of a loved one, as there is often less closure when it comes to the breakdown of a relationship.
She wrote: "It's one of the most difficult things to get over and one of the most painful. The worst is when you're at that point where you feel like you will NEVER stop crying.
"You want to curl up and hide and you feel like you'll never be 'normal' again. I've been there. I know the feeling. It hurts so bad it's almost like a physical pain in your chest and your eyes are sore from the tears that just keep on coming.
"Being dumped or rejected or even a mutual split with someone you love can often be the hardest thing you'll ever go through emotionally. Harder sometimes than even a death because at least with a death there's closure and time is a healer so with each passing year it gets easier.
"When my best friend was murdered I couldn't even talk about her for the first three years without dissolving in huge sobs (and god forbid 'our' song came on the radio).
"Now though, with time and acceptance, I can talk about her with laughter and joy and remember all those things I loved about her.
"Occasionally I might still have a cry but mostly I laugh when I talk about how fabulous she was."
"Heartache is different," she continued. "It's something that not only hurts at the time but it scars you and leaves you feeling worthless and pathetic. The repercussions from it can last years (maybe even forever) and it can also change you as a person.
"I know for me, when I've been hurt in the past I've put barriers up afterwards, as if somehow those barriers will protect me slightly in the future (note, they don't – you can STILL fall for someone just as hard even with a wall of steel around you and ice in your heart)."
Jodie Marsh was previously married to James Placido. The couple separated in April 2016 after just eight months of marriage. While a reason for the separation has never been clarified, Marsh has hinted previously that she would one day give the reason.
(JP/LM)
---
Top stories
20/07/2018
Orlando Bloom Would Like More Children
Pixie Lott's Wedding Plans Are Getting 'Out Of Hand'
Karie Price Made Kieran Hayler Take Three Lie Detector Tests
Sharp Decline In Teen Pregnancy Rates - Report
Pierce Brosnan And Wife Celebrate 25 Years Together
Taking My Children On Tour Has Been 'Exhausting' - Pink
Justin Bieber And Hailey Balwin Would Like A Smaller Wedding
Miley Cyrus And Liam Hemsworth Are In A 'Great Place'
19/07/2018
Miley Cyrus And Liam Hemsworth Call Off Engagement
Police Called To Domestic Incident At Boris Becker's Home