UK Wedding News
10/01/2018
Danielle Lloyd Defends Gender Selection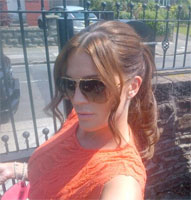 Danielle Lloyd has defended her decision to use gender selection for her next child.
Lloyd is already a mother of four boys, but she has said on a number of occasions that she would love a daughter. She has now said that she plans to travel to Cyprus to have a 'designer baby' and select the sex of her next child. The process, which is highly controversial, is illegal in the UK.
Speaking to Emma Barnett on BBC Radio 5 Live, Lloyd said: "It's always been my dream to have a little girl. It's about having that mix and bringing up a little girl.
"I know she might not be 'girlie' – she probably won't be with four brothers – but it's just about having a little mini-me almost.
"I could continue to have babies and hope I'd have a girl but I want to be realistic. I've got four boys at the moment and they are a handful."
(JP/LM)
---
Top stories
20/07/2018
Orlando Bloom Would Like More Children
Pixie Lott's Wedding Plans Are Getting 'Out Of Hand'
Karie Price Made Kieran Hayler Take Three Lie Detector Tests
Sharp Decline In Teen Pregnancy Rates - Report
Pierce Brosnan And Wife Celebrate 25 Years Together
Taking My Children On Tour Has Been 'Exhausting' - Pink
Justin Bieber And Hailey Balwin Would Like A Smaller Wedding
Miley Cyrus And Liam Hemsworth Are In A 'Great Place'
19/07/2018
Miley Cyrus And Liam Hemsworth Call Off Engagement
Police Called To Domestic Incident At Boris Becker's Home