Alternative Wedding Transport for the Modern Bride & Groom
If you are looking for unique and original wedding transport in Northern Ireland that is guaranteed to make your day stand out from the crowd then look no further than Co. Antrim based company Star Car Hire.
Volkswagen Beetle and Camper Van Wedding Cars
Star Car Hire began hiring Volkswagen Beetles for weddings in 2004 with their white 1974 convertible 'Love Bug' called 'Buckley'. Since this time they have worked hard to establish themselves as Northern Ireland's first choice for alternative and novelty wedding cars.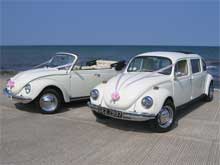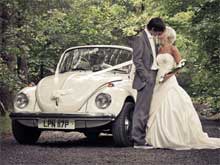 Their extensive VW Love Bug family has grown enormously over the years with new and exciting Volkswagens regularly being added to their fleet. Currently on offer is a great selection of classic white convertible VW Beetles, Stretched Beetle Limousines and stunning 1960s VW Split Screen Camper Vans.
The County Antrim based company also has an exciting range of modern VW's available including a modern shape Beetle limo and a custom painted white convertible Beetle Cabriolet to match.
Surprise your Groom! Cool cars for Groom Arrivals
Star Car Hire also likes to ensure that the Groom is spoiled on his big day offering a stunning collection of cool cars that would leave most grooms watering at the mouth.
For movie fans they have an actual replica the Dukes of Hazzard General Lee (1969 Dodge Charger) and a brand new yellow Chevrolet Camaro similar to 'Bumblebee' from the recent Transformers movies.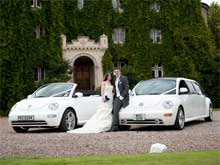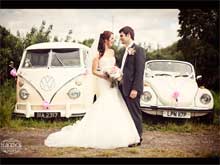 Other cars and TV legends include the A-team van and various American Muscle cars such as a stunning Ford Mustang Fastback similar to that used in Steve McQueen's 'Bullitt' and 'Gone in 60 Seconds'. Ladies, if you would like to surprise your man on your big day call us today!
Star Car Hire's wedding car service is now available throughout Northern Ireland including County Antrim, County Down, County Tyrone, County Fermanagh, County Derry/Londonderry and County Armagh.
For more information on Star Car Hire contact Mike or Ciaran on 028 2858 3500 or 07731 826 398! You can also log on to
www.starcarhire.co.uk
to see the full list of vehicles currently available.