The Hootenannys are a vibrant combo of talented and experienced musicians. With every member of the band a lead vocalist, they share the delivery of an up-tempo set with a big sound. The guys can pull out all kinds of well known tunes to get up and move to. Their set includes The Jackson 5, Elvis, The Killers, Johnny Cash, Snow Patrol, Stevie Wonder, James Brown, Scissor Sisters, Robbie Williams, Kings of Leon and many more.
The Hootenannys are a tight, entirely live 4-piece band guaranteed to be the life and soul of any party and are fast becoming one of the most popular wedding bands in Northern Ireland!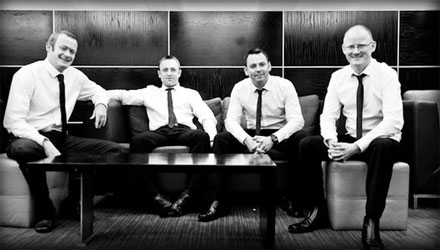 Weddings
With many years experience in wedding entertainment, The Hootenannys know that on your big day, the right band will make the evening party a night to remember.
We'll perform a lively and up-tempo set and we know the importance of pleasing ALL of your guests, young and old. We'll play or provide the song for your first dance and even provide the backing for a relative or friend performing their traditional party piece! Whatever your specific requirements, just let us know.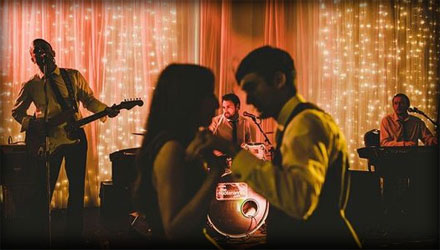 Appearance is everything and our smart dress code means we'll look right at home next to all of your well dressed guests.
Why not get in touch with us for a quotation which will depend on the location of your wedding, the size of band you require and if you would like us to provide a DJ to continue the party!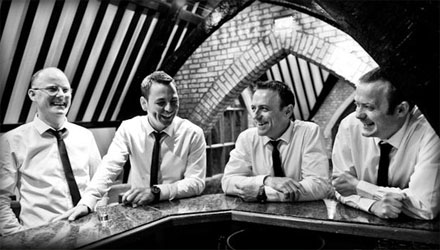 Reviews
'Just a short note to say thank you so much for the awesome job you did at our wedding. The atmosphere was electric and I don't think the dancefloor was cleared all night. The DJ was great aswell. So thank you for making our day so good'
Jenny and Adam
'Guys, thanks very much. You did exactly what you said on the tin. We had so many things to worry about but the band (thankfully) turned out not to be one of them. Thanks.'
Oliver and Becky Hammond