BrazilBand is a professional four-piece entertainment package with over 20 years experience of providing the music for wedding receptions and dances. We will make your wedding party a roaring success and we have hundreds of thank-you letters and cards to prove it!
BrazilBand comprises of Lesley-Anne lead vocals, Mike piano, keyboards & vocals, Nick guitar, guitar synth & vocals and Max drums & percussion. We are based in Bangor but are available for all Northern Ireland and the border counties. Book Brazil, chose your first dance, relax and leave the detail to us.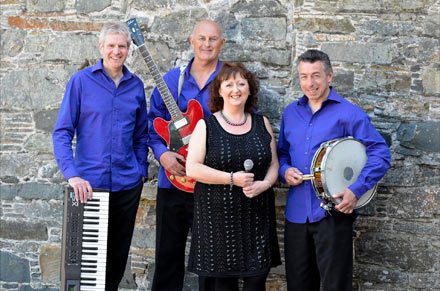 The selection of music is designed to suit all age groups and tastes. The variety is mixed from up to date Pop, Rock, Soul, Blues, Disco, Rock'n'Roll, C&W, Rat Pack, 70's, 80's, Ballads and Cheesy Party Tunes...in fact all styles of popular music for Wedding Receptions, Dinner Dances, Charity Balls, Formals, Dinner Dances & Functions.
We can play a 'Salsa' 'Waltz' 'Jive' 'Old-Tyme Waltz' or a 'Quick-Step' when a bit of 'Strictly' is requested, and we tailor your evenings entertainment to your requirements.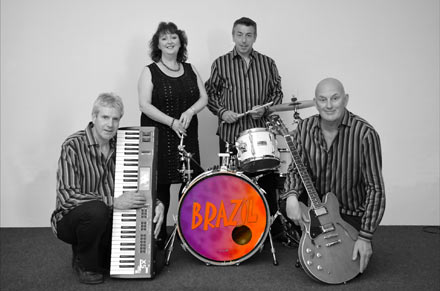 Whether you chose to have BrazilBand alone for 2 – 3 hours, or wish us to team up with an excellent Disco (several are available), the choice is always yours! On the evening, we can set up in about 45 minutes, depending on access to the stage, and including stage lighting to ensure that your evening reception flows seamlessly.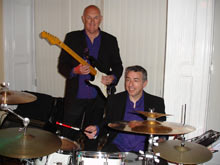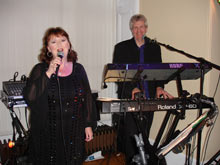 As Fridays and Saturdays are taken up quickly, we recommended early booking and a deposit of £100 is required. Should you wish to book us for Sunday – Thursday evenings, a discount of 15% is available.
For further information
Lesley-Anne 028 9146 3760 or 07980 149257
nickydavidson@btinternet.com
www.brazilband.net