Congratulations on your engagement!
Hopefully we at la boda bridal can help to take a little bit of the stress out of the search for your wedding dress!
Over the past eight years we have tried to fill our boutique with contemporary, high fashion wedding gowns that we feel mirror the current catwalk trends, so that our brides look bang up to date on their big day.
We pride ourselves on not only the range of wedding dresses we offer but also on the service we give. What delights us the most is that at least 50% of our custom is on a referral basis, indicating to us that we must be doing something right!
Why not book an appointment and see what la boda bridal can offer you.
Bridal
La boda bridal is delighted to stock some of the world's leading bridal designers. From Spanish giants "Pronovias" who are renowned in particular for their stunning lace wedding gowns and high fashion catwalk bridal looks, (check out the 2012 catwalk show on our Pronovias page) to Maggie Sottero which is new to la boda bridal for the upcoming 2012 season. Maggie Sottero bridal gowns are best known for their amazing silhouettes and sumptuous detail. Augusta Jones, which is always a firm favourite with the classic bride, showcase soft fabrics with clean lines and stunning necklines.
The bridal designers that we have chosen to stock at la boda bridal have been carefully selected to ensure that every bride has a chance to find the perfect wedding dress. So whether you are looking for "fresh and funky" or "classic Audrey Hepburn" we offer a selection of bridal dresses to suit all tastes.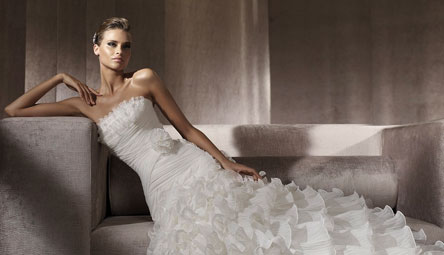 Bridesmaids
La boda bridal carry the most renound designers in bridesmaid dresses showcasing a huge variety of styles, fabrics and colours. Jim Hejlm Occasions, Alvina Valenta and Lazaro bridesmaid dresses offer the most discerning bride a stylish, fashion forward option with the highest quality of fabrics including soft chiffons and beautiful laces.
The Dessy bridesmaid collection has an amazing range of colour and offers upscale, modern options for every bride. Each dress is designed with excellence in mind and constructed with specialty fabric.
Book your appointment to view the full range of bridesmaid dresses at la boda bridal.
Accessories
la boda bridal proudly stock headpieces, jewellery and veils from some of the leading accessorie designers. Every piece is handmade to an exceptional standard with Swarovski crystals, cultured pearls and ornate filigree adorning each and every piece to create the ultimate in contemporary and vintage design.
We also stock headpieces and veils from Pronovias. What better way to compliment your beautiful Pronovias gown than to accessorise with the coordinating lace veil or a headpiece with the same intricate beading that appears on the dress.