Hire

McCrum Carriage Hire
The McCrum family have a lifetime of experience with the driven horse, whether commercial, pleasure or competing in driving trials.
Whatever your need they will strive to provide the best service possible. Adequate insurance cover for any requirement.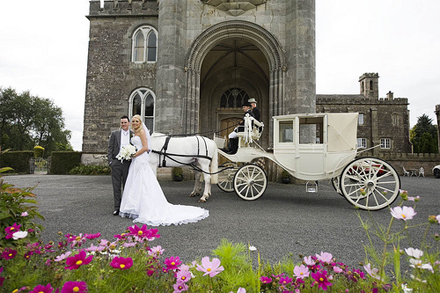 Horse Drawn Carriages Hire
The McCrum family have long-standing experience with the equine world going back over three generations. Our business covers all-Ireland, therefore distance is no obstacle.
Brides why not arrive in 'Royal Style' and make yours a fairytale wedding in one of our carriages drawn by a pair or team of 'Traditional Greys'.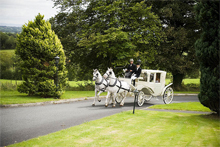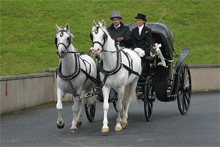 Your first thoughts: 'The Irish weather!' We have the answer with our all weather carriages which are very adaptable to every situation.
You may have the hood open or closed in our 1900 Victoria carriage or our Ivory Victoria Carriage, or the carriage simply covered when it rains.
On the other hand you may arrive 'Cinderella Style' in an Ivory Landau carriage, or the 1880 Brougham glass fronted carriage, which leaves an air of mystery for the bride not to be seen until arrival - the choice is yours!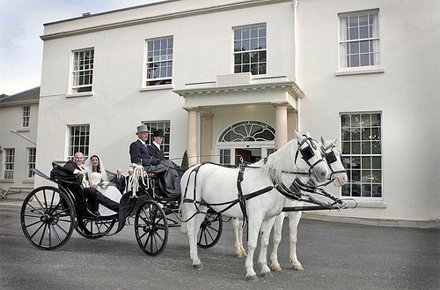 Your second thought: 'Safety' in the city, the town or the country no problem arises - our horses are fully experienced in traffic and fully insured.
Also Specialising In:
Equestrian Centre
Fun Farm
Camping & Caravaning
Party Facilities
School & Group Visits
Petting Farm