Bone Idol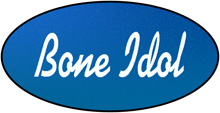 Bone Idol
is a versatile 5-piece Function Band playing an eclectic mix of some of the best music from the 60s to the present. They play a high-energy, feel-good set designed to get you moving, with acoustic ballads and 'Slow Dances' for you to catch your breath.
Bone Idol have expanded their sets to ensure they have something for everyone, mixing rock, pop and soul classics with more contemporary material, and through in some country, acoustic ballads, and rock 'n' roll for good measure.
They can still rock it up with the best of them and, as 'Rock Idol', can play entirely rock-based sets if required. Whatever they play, all the music is totally live and the band's energy and enthusiasm is infectious.
They are experienced and versatile musicians who pride themselves in their professionalism, their choice and arrangement of songs, and their attention to detail. Their line-up of vocals, twin lead guitars, 12-string acoustic guitar, bass and drums, plus a recently added saxophone and a wide range of crowd-pleasing, floor-filling songs from every style of classic and contemporary music ensures Bone Idol provide the right mix of live music for any event.
We can also provide:
Background music during reception
PA for speeches
Disco to wrap around the live music
Some tracks of your choice to the set, including First Dance requests.
Lights and Lasers
Contact: 075 5262 5296 (Drew) or 077 8964 4683 (Mark)
Email:
boneidolband@gmail.com
Website:
www.boneidolband.co.uk
Facebook:
www.facebook.com/boneidolband